N-M 7-A
I originally posted this as an entry in the "A Pirate's Life!" competition, but I've decided to make a seperate thread for it, containing more pictures and such. Lets get straight into it, shall we?

TinyPiesRUs, on May 17 2008, 06:45 PM, said:
Category:
Large
Set Name:
Aztec Temple Attack
Piece Count:
200!
Descrption:
The Armada soldiers are attacking the mighty Aztec temple! Can the Aztecs defeat the invading Spanish and put them in their prison (and sacrifice them on the altar at the temple top

) and defend their gold? Or will the Spanish defeat the Aztecs, free their captured comrade and take the gold? Which side will you choose? Includes prison, breakable wall, sacrificial altar, golden statue and cannon. Contains Aztec high priest, Aztec warrior, 3 Spanish soldiers and 3 horses.
A couple of overall views:
The temple top:
A golden statue of an Aztec god:
An Aztec prison, containing a poor Spaniard:
Thye Aztec High Priest calls for the next sacrificial victim to come up...
The Spaniard makes a daring escape!
"I suppose you'll have to do..."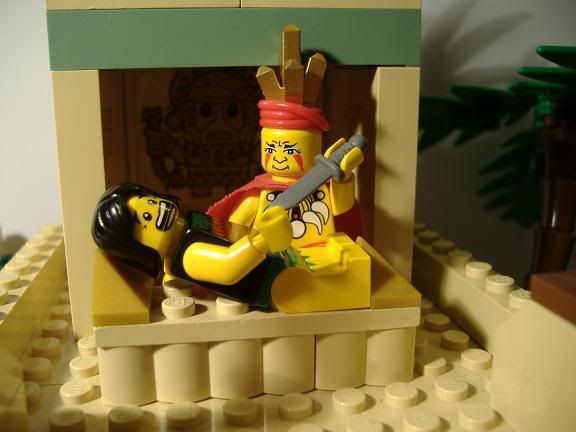 Load the cannon...
... And fire! The wall collapses! (looks like they hit the Spaniard as well though...

)
... Which reveals a large stash of Aztec gold!

But beware of the spiders! (did that cannonball just change colour?

)
Have minutes of fun with this set!
Aztec warrior and High Priest:
The Conquistadores:
Enjoy! Feedback much appreciated

Edited by SlyOwl, 04 November 2009 - 11:16 PM.