*as the show begins, the camera zooms in on imperialshadows*
Before we start this episode, I'd just like to take a moment to say a few words. Recently, we've been running a few extra episodes of EB News Presents, and you might be wondering why. It's because Staudie is crazy. No, I kid. Well, he is crazy, but that isn't why, though...

Basically, we're backlogged with great interviews and have been getting so much positive response to the ones we have done, we hate to see them held back. That said, I fully intend to reign this back in to a more reasonable schedule, not exceeding 1 or 2 a week, like we were doing previously.

Thank you for your understanding and continued viewing!

*camera fades and returns to the show intro*
Welcome to another exciting episode of EB News Presents! I'm your host, imperialshadows, our reporter this evening is

Stauder

, though I don't know where he is at the moment, and our special guest is

Alex54

, who also hasn't shown up, maybe they're off talking before the show. As you will note, we're filming in our special underwater studio to accomodate Alex54. Hope you enjoy the new set!



*Staudie enters the studio*




Um... why are you dressed for the old west? We did the Brick Miner episode weeks ago, and we're underwater. :-|


HUH?!?!?







So that's why Betsy went belly up. Back to the changing room!


*sigh* This is what I have to deal with folks.



*Staudie and Alex54 both enter the studio*





You know, this is quite an interesting set, it has a lot of character. And LEGO ice trays. And a license plate. *wacko* HEY! Look! It's my old pistol from my, uh, seafaring days!


You really are old.


If you plan to ever get old ... >:-(



That's my cue to start the interview!





Q. So, Why the name Alex54? And why the Odd title? (Witch I belive is some french TV show... )


A. My first name is Alexandre, so my usual nickname is Alex. And 54 because it's the number of the territorial and administrative division of France, where I leave: the "Meurthe et Moselle".
For my title, in one topic I have spoken about the cartoon and manga that I watched when I was a child. And there were a TV show for kids, the "Club Dorothée". Dorothée sung too, and after this discussion in the topic, I put a link to one of her song in my signature. And tada! I have a new title!



Q. What got you into lego? Do you regret this? *Don't Hurt Me*


A. As far as I can remember, I've always played with LEGO. I've started with DUPLO (but my parents had given them to my younger cousins, so I don't have DUPLO anymore…), and after it was LEGO system, and after some Technic sets. Every year, I've got some LEGO for presents for Christmas :'-) ! So I have grown with those plastic bricks, without any dark age. In fact, when you have the age to be in a dark period, i-e a teenager, TLC was in a dark period too! So there were not so many great sets during this period (1998-2002), and I've bought the few ones that appealed to me.
And of course no I don't regret that! LEGO is the only things that I never stop to like, it's a timeless hobby, far away from "fashion hobbies"!



Q. What do you think about the things TLC is doing? I think its nice they are listening to us.


A. Well, I really like the set from the two last years. TLC gives us some really nice sets and really nice theme: Aquaraiders, Castle, Indy, Sponge Bob and City of course.
TLC has made a real step in the right direction in term of design!
Listening to AFOL is great, especially when TLC brings us sets like Café Corner, Market Street and Green Grocer, some sets for AFOL (not only for the difficulty, but for the price too!)



Q. What is your favourite set? Say top 3


A. Well, I've always hated to choose a favourite thing among others from a same universe. I need some crappy sets to make my favourite sets so favourite!
So, here 3 sets that I really like:

Set 6399 Airport Shuttle


It's a set with a lot of potential in term of life in a layout. I like the fact that it connects the downtown to the airport, using a motorized shuttle! When it's motorized, there are some stars in the children's eyes when they look at them in movement! Unfortunately, I don't have it.

Set 6285 Black seas Barracuda


I remembered that, when I was a child, during the holidays, there were some fountain in which you have to throw a coin to have a wish comes true. And my wish was to have this set… And that's never happened :'-( . So don't loose your money, save it for LEGO sets! ;-)

I like the 1990-1996 years of LEGO in fact.

My last choice is 10182, Café Corner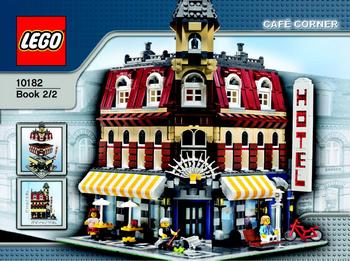 This is the set which gives me the more interesting building experience. I've learned a lot with this set, which is a pure beauty, the first set from a nice and long series, I hope!
Some very nice choices, indeed! *y*



Q. What is your best IRL Lego moment? How did you feel?


A. My best LEGO moment was my first LEGOLAND. I went to legoland Germany with Yoda and Jipay. I was on a little cloud, between dream and stars… 8-° :'-)
And each time that I open a new set appears like a real moment of joy, whatever the size of the set.
So I know those two French guys (You didn't ask me if I known other members…).



Q. Your a AFOL right?




A. I don't understand the question… Do you mean that I'm Adult? Yes I am, a young man of course, and for a long time!


Don't mind Staudie, he's 12. Everyone seems old to him. |-/



Q. Best EB moment (Except this of course X-D ) ?


A. Each time that I'm at work and take 5 min just to see if there is any news from nice sets…
And each time that we have discussions, explaining our point of view, in the forum.



Q. I'll admit I have not seen much of your work, can you show us some of your mocs?


A. What?! You don't know what my mocs look like |-/ ? Everybody on earth know them! Shame on you!

I'm a town mocer and here some pics of my mocs:



And here a bird view of my last (but not least) layout:



I'm a Staudie mocker.


I'm a ... darn, I couldn't think of anything funny to say.


You just did.

Oh look everyone, it's Larry! |-/



Hmm... seems like he's attacking Staudie again. I suppose we should do something about that, but I let security have the day off. Darn.



Better watch out there!




Hey, you care about me! You really care!


I was talking to Larry.


Oh. Back to the interview ... :'-(





Q. Am I annoying you past the borders of sanity?




A. I have learned to be patient with people, so no! :-P





Q. Do the Chicken Dance! *Cluck Cluck Cluck*




A. Hopefully you can't see me doing that!


Weirder and weirder.



Q. Any message you'd like to spread?




A. Just have fun with your bricks!





Q. Who sould we interview Next?




A. Hobbes


A good idea!

And there you have it folks! After all those interruptions and delays, we're running a little over time, so from all of us to all of you, thanks for watching!
*camera fades*

*imperialshadows remembers something important he needs to add and has the cameras start broadcasting again so he can take care of it, but the scene revealed isn't what anyone expected...*


STAUDIE! What are you doing with that Playmobile person??? X-O


AAAAAAAH! NO ONE WAS SUPPOSED TO EVER SEE THAT!

*Staudie runs in terror*



That was just shocking... I can't even remember what I wanted to add now... *wacko*



*camera fades*