Well, I got this set MISB for my birthday, 8 years late X-D . At ?3 ($6), it's pretty cheap - almost the same as the current impulse line, but with far more pieces...additionally, the box was so crammed full of pieces that it was difficult to open! Unlike the modern castle sets... |-/ so much for packaging reductions...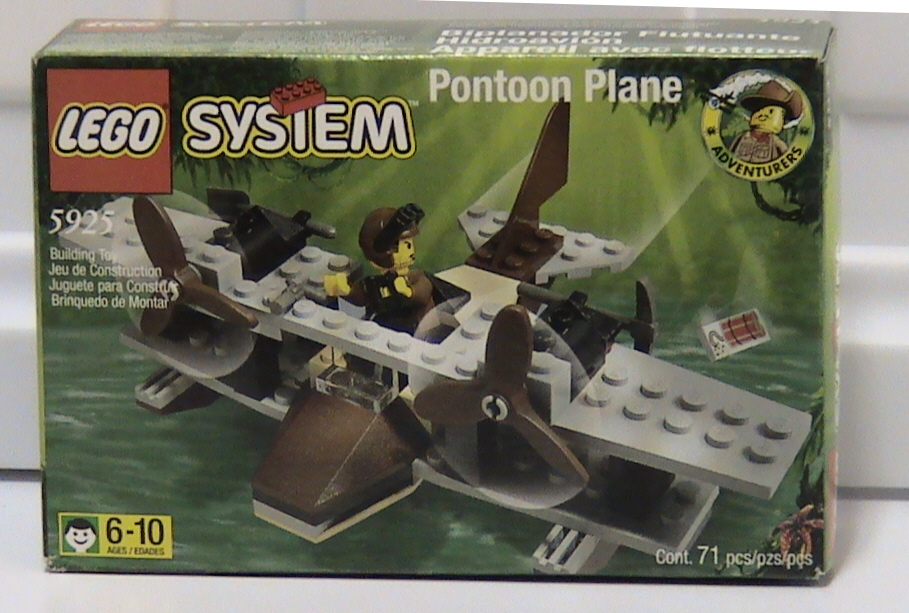 Anyway, for ?3, you get a figure, Harry Cane, a ton of accesories and a decent sized inter-war era pontoon plane - it can land on rivers and lakes e.t.c - it completes the Adventurers aviation section - 2 biplanes, a pontoon plane, a zepellin and a hot air balloon.
The box is nothing special, with all the alternate models (a boat and hovercraft - not great, but the part selection means you can build a lot extra) and action poses on the back of the instructions:
Harry Cane, with accessories to the right and spare parts to the left:
The plane is a lovely, simple build - after the second construction I could do it off by heart. The top wings are a little weak, but the sheer coolness of the propellors makes up for this - when you blow them, they turn!
The cockpit is a little small, as is the windshield - his head pops out the top of the plane :-P . The pickaxe and spade clip onto the back of the engines in true Adventurers style - impractical but awesome!
The storage compartment can fit all the accessories and spare parts at the same time! I was surprised that it contains 2 revolvers - most unusual! The only problem with the locker is that the binoculars and revolver tend to fall out if Harry isn't in his seat - it isn't sealed... |-/
This is a great set - cheap, full of the Adventurers' rough charm and very playable, as well as mega-swooshable and crashable!
If some kind admin could add a poll...
SlyOwl
Edited by WhiteFang, 27 November 2008 - 05:52 AM.
This review is added to the index.