Vig. 4d
"Defending Sabre Island"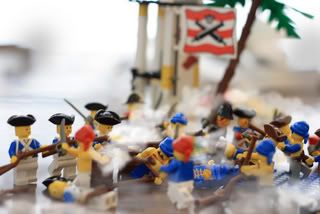 I'm 29 and am in the process of selling alot of what I own, because I frankly have too much junk. So I got out the storage bin of old legos and laid them out to take pictures to sell on Ebay and then it happened. I forgot about the bills, the car troubles, the heat, and felt like a kid again. So now I'm back in the lego craze, and here is the picture I took for fun instead of the ebay one. Hope it works.... 8-°
Edited by SlyOwl, 05 November 2009 - 07:49 PM.