My last attempt at building a railway around a town must of been back in about 1982. With no room at home to have a permanent display on show, I have decided to move up from the 'room behind the garage' plan to the space under my mezzanine office at work plan. At the moment the space is filled up with a Suzuki Bandit in pieces, an old dining room table, a couple of clothes rails and some filing cabinets as well as a weight bench and stationery for work.
Step one, clean the table off as this is going to be a temporary home for the train display. I had found my old road baseplates in my garage, but the old ones have become discoloured and bent. Time to replace them with some of the new dark grey things then.
"so what is this bloke doing then? Where is everybody and every thing? And why aren't you driving the bus?"
"DON'T JUMP, THE PIZZA ARE NOT THAT BAD!!"
"But the train isn't here yet!"
Simple oval laid out, small town scene in the middle. As the saying goes, "I need a bigger table!"
For those lazy minifigs there are two platforms, if they do not want to chance the bus (or walking, loads of police on the street(s))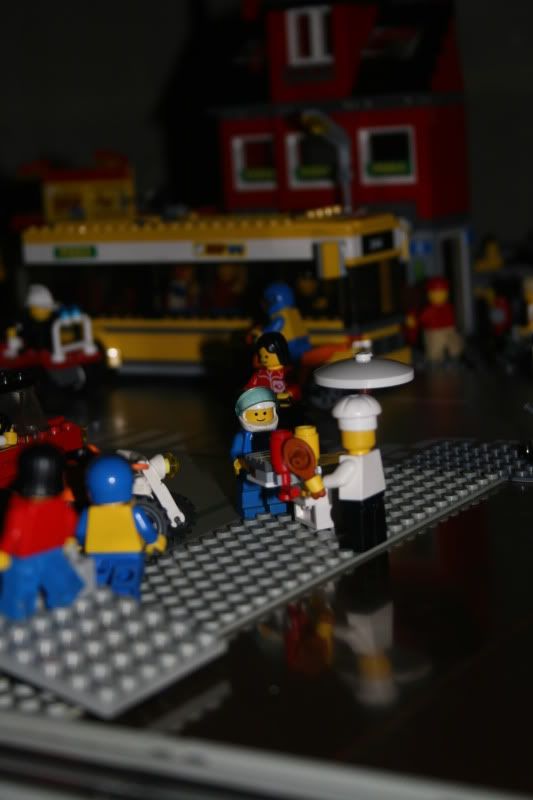 Got to have a place for the bikers of Legoland to meet. Drumsticks all round then

I've found some old, but nice looking packing case boards in the corner of the warehouse (2m by 4m), so I can see these being used when I get a quiet moment to sort through my plastic stacking boxes of bricks. Hopefully the local TrU will get some more road baseplates in soon, so I can start filling the middle section of the table up. I have another full oval of 12v track in one of the boxes but only the 7745 train at the moment. Police and petrol station to build this week (as well as some proper work to do as well).
I know it's small at the moment, but my main aim today was to make sure the train and rails all worked and just to have some quiet time atemping my first build for a long time. Then again, we all have to start somewhere.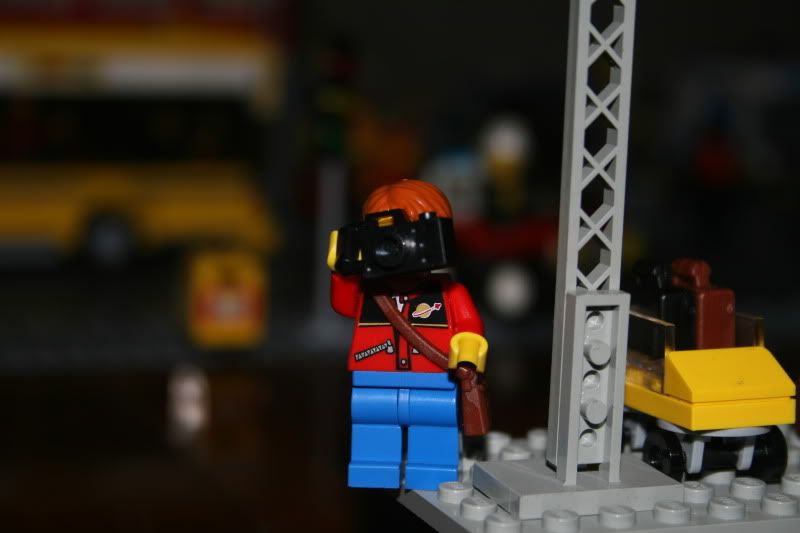 "Take a picture of me will you.. I'll show you!"
I've just downloaded BlueBrick.. Oh dear, this is going to get expensive