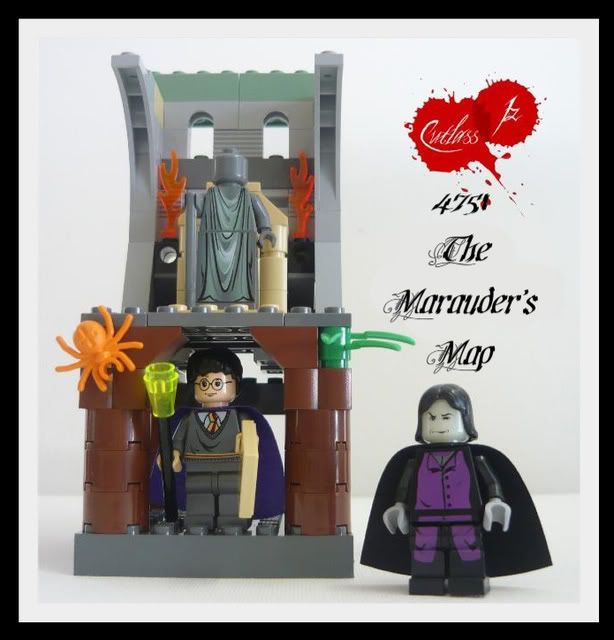 Introduction:
One of the best small sets from the Harry Potter theme, this set will bring you much joy as build, play and MOC with it. Help Harry escape from Snape or just sneak around in the secret passages of Hogwarts.
Name
: Harry and the Marauder's Map
Set Number:
4751
Theme:
LEGO Harry Potter
Sub Theme:
The Prisoner of Azkaban
Year:
2004
Pieces:
106
Price:
AU$22.99, GPB 8.99 US$ 10
Minifigures:
3
Recommended Age:
6 - 10
Resources:
Brickset
Peeron
Photobucket
The Box:
The cover of the box shows a great action shot of Harry escaping down into the secret passage seemingly just in time as Snape is somehow hovering close by with his face all aglow.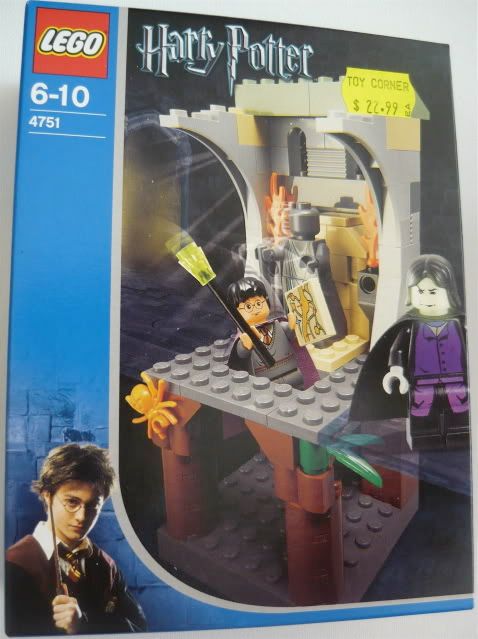 The back cover of the box shows various builds and a few of the moving part features of the set.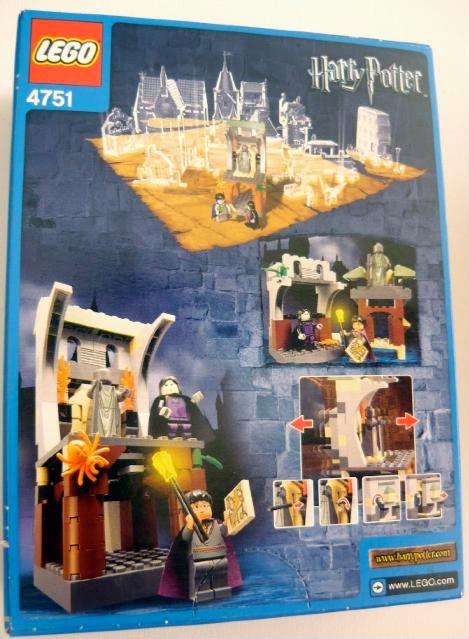 The Booklet:
It is quite a large booklet, and the cover of the booklet is the same as the cover of the box although it is printed length ways but when you open the booklet is is all printed width ways. I hate that

. Snape looks like he has some pretty great swooshability.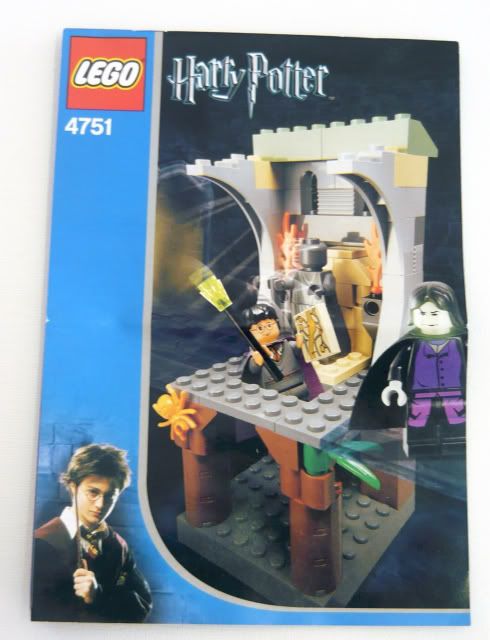 A random page from the booklet with steps 12, 13 and then skipping to 20??? That is because the bulk of the build is done in 1 to 19 steps, then it starts again from 1 to 13 for the movable part, and then it continues with step 21 for completion. There is another four pages of the booklets after that, showing closer shots of the alternate builds and various HP sets available at the time.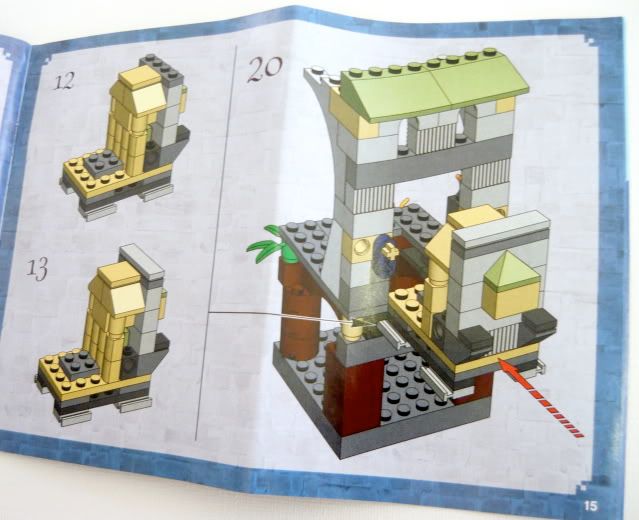 The Pieces:
All the pieces together (A La Svelty) As with almost every HP set, we have got a wide range of colors. Black, Tan, Red Brown (including the arches which are exclusive to this set

), Mid Stone, Dark Stone and Sand Green. The only printed pieces in this set are the Alchemy Piece and the Marauder's Map. We get a few Technic pieces for the opening mechanism for the Humped-Backed Witch to slide out, revealing the secret passage. There were no spare pieces in my set.
Pieces of Interest:
First of all we have two cloaks, a Black one for Severus and a
Purple
one for Harry. Just like the Starry Cloak from the Troll on the Loose set, this is a strange cloak for Harry to have but I shan't complain as I already have so many Black Cloaks and to have something different is good. I like to switch them around and have Snape in the Purple ones as it matches his Purple clothes.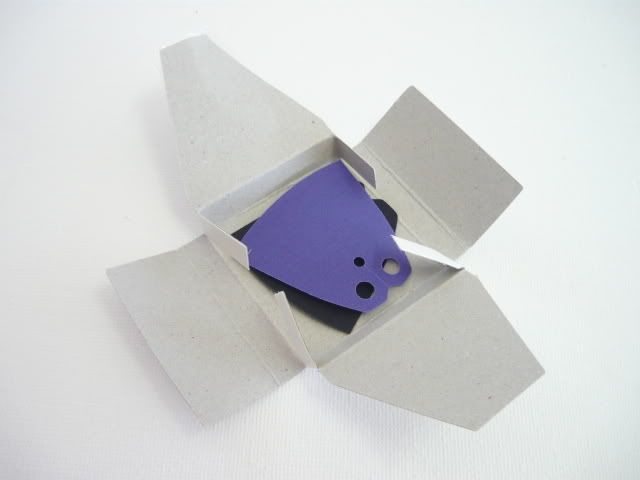 We have some plant life, a quick way to liven up any set.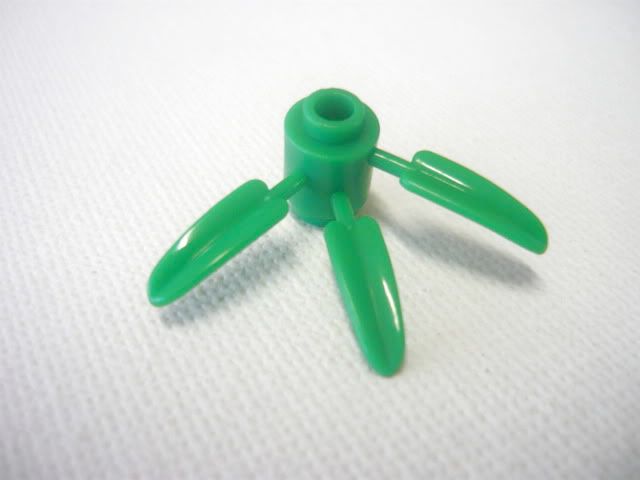 A really cute piece we get with this set is a great big orange spider with a cross
on
in its back. Just another non essential piece that livens things up. I like it alot. It is great fun to play with.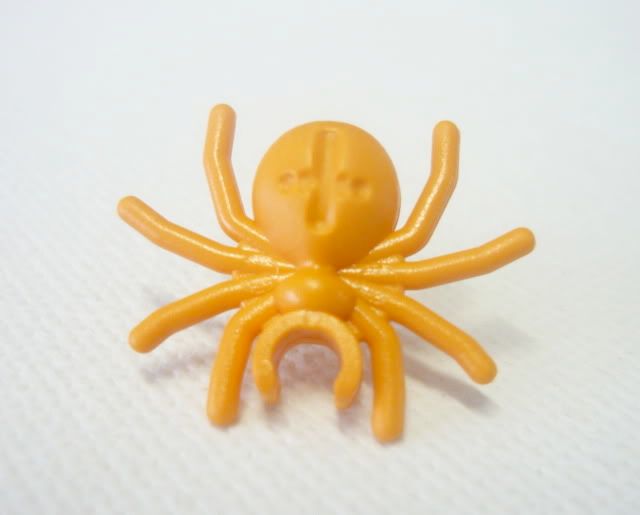 Here is a close up shot of the Marauders Map, showing the writing as clearly as I could get. There is some small red writing, that on my piece is absolutely not readable, if anyone knows what it says from a Map that is printed more clearly. I would love to know what it says. As for the black writing, it says Rebmach rowel or as I have figured out "Lower Chamber" written backwards, but the 'c' and the 'h' are muddled up, and the other words are Egassap retniw or "Winter Passage" also written backwards. Very clever of TLG to do this I think. I love this piece for the fact that it is so small but has such great detail, and it is printed

.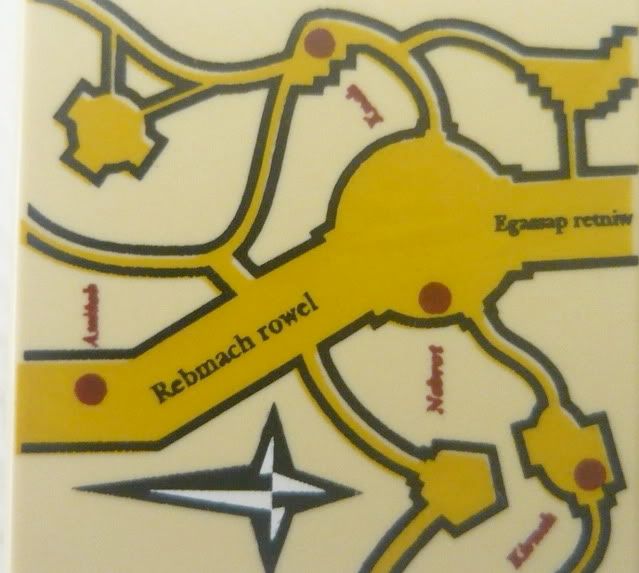 Here is a close up of the alchemy Piece that is hidden behind the Statue. Like the Map piece, do these markings actually mean something? I cannot say. After much research in ancient runes, I was unable to come up with anything regarding this piece. If anyone does know of it means anything, I would love to know.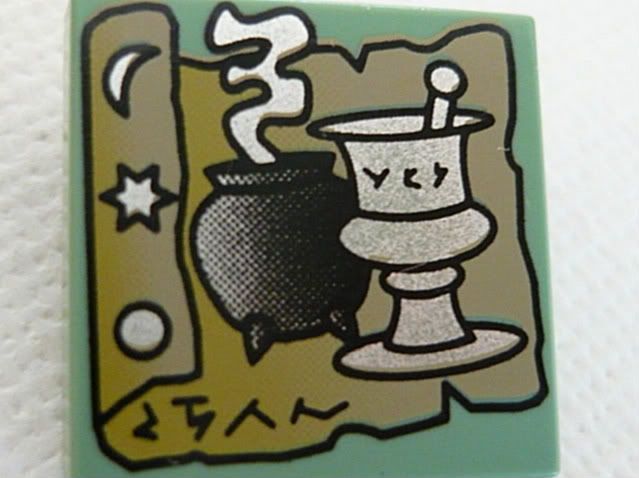 The Minifigures:
Firstly I'd like to show you the Statue, in the books it is a Humped-Back Witch, but the way TLG have made it is more of a Humped-Butt Witch

. I love the Printed Torso and Skirt pieces with the flowing gown, no print on the back is a shame, but as statues are mostly against a wall I guess that is why it isn't printed on the back. Altogether with her lovely dark Grey head, torso and skirt I think it make a very nice looking and realistic statue, although, some Dark Grey Ladies hair would have been the cherry on top.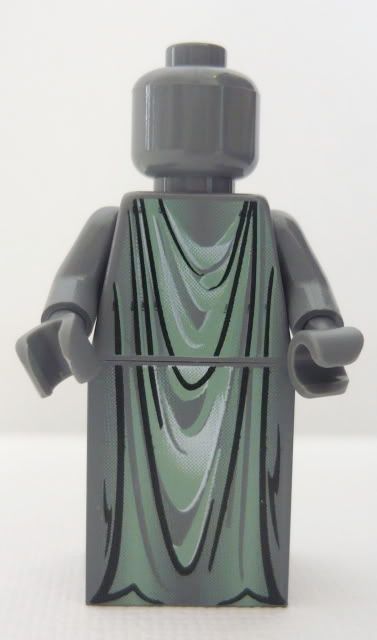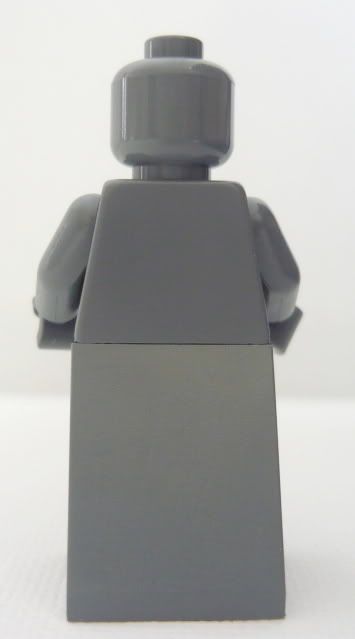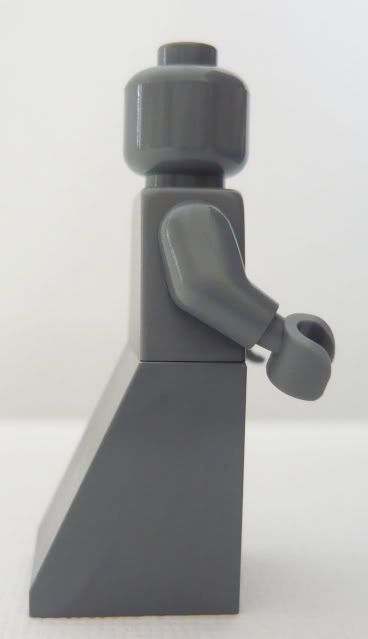 Harry Potter in flesh is the second Minifig, he is wearing the Dark Grey Gryffindor Uniform and a Purple Cloak. A side shot of the minifig with cloak on, there is no print on the back of the torso or cloak.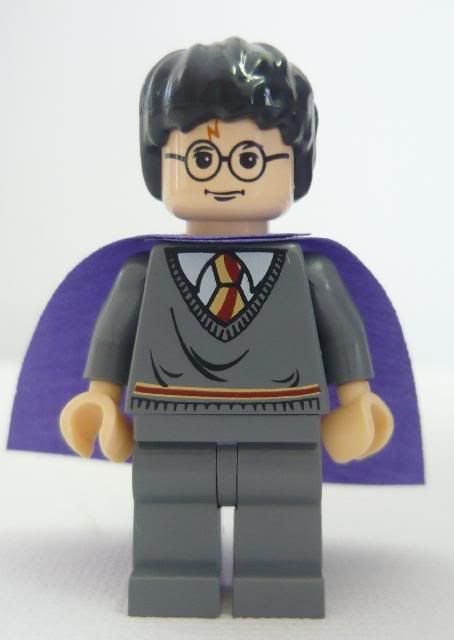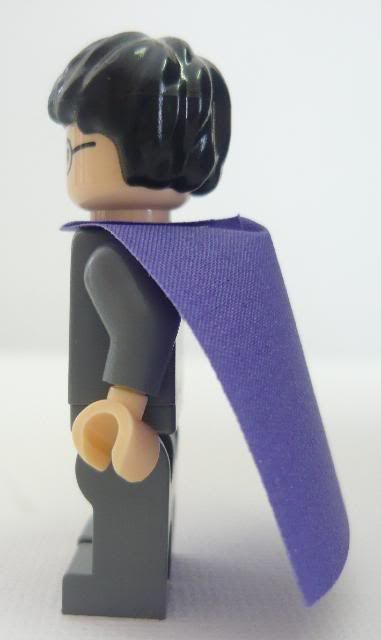 Here is a shot of Harry without the cloak and with his 'Lumos' wand. Is it just me or does Harry usually have a brown wand? Unless I'm mistaken and it is not a wand at all.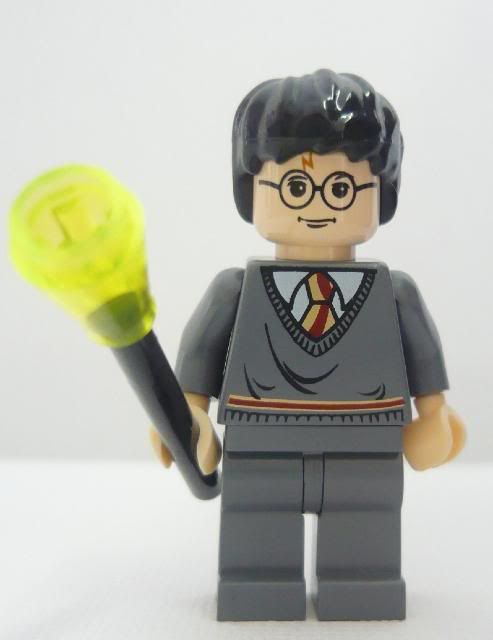 Here we have a front and side shot of Snape, there is not print on this back either. He has a partially printed torso and pants, with a purple suit. I believe this is so it looks like his cloak covers most of his clothes underneath, like in the movies. He has light Grey hands and a sickly colored light Green-Grey (glow-in-the-dark) head.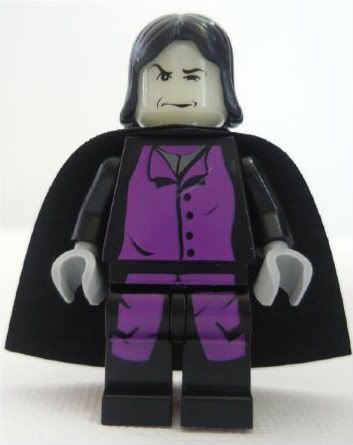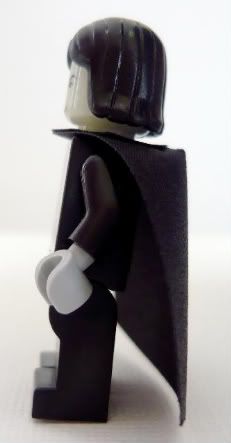 Here is a shot of his head in action, it has quite a decent glow about it for a few seconds, it fades quite quickly meaning many trips to the sunniest windows sill and back as I took this photo around 15 to 20 times each with different settings and locations and this is the best I could do with my camera. I ended up in Amelie's wardrobe to take this shot. Haha.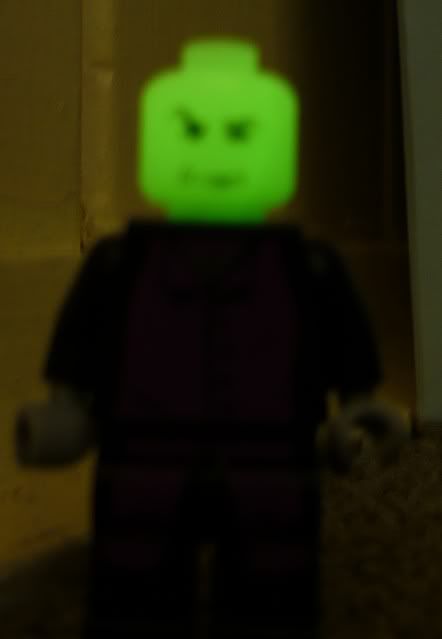 The Build:
We start the build, using all the brown pieces for the underground passages.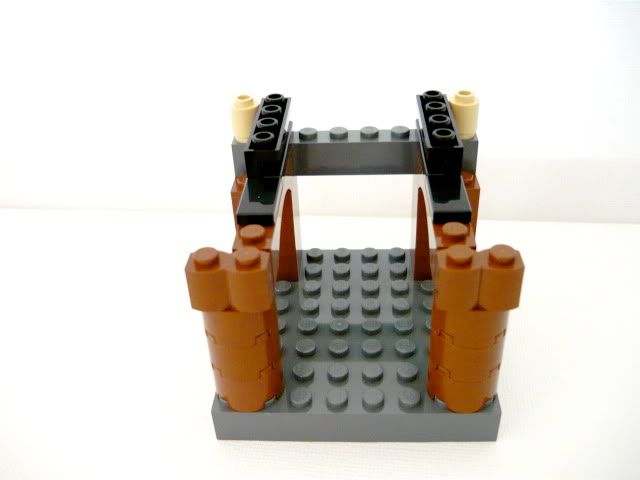 Here is a piece that many
many
Lego Star Wars sets, a 1x4 brick with groove, in this case in black.
At this stage of the build we get to add a bit of colour with the bright orange spider and some plant life.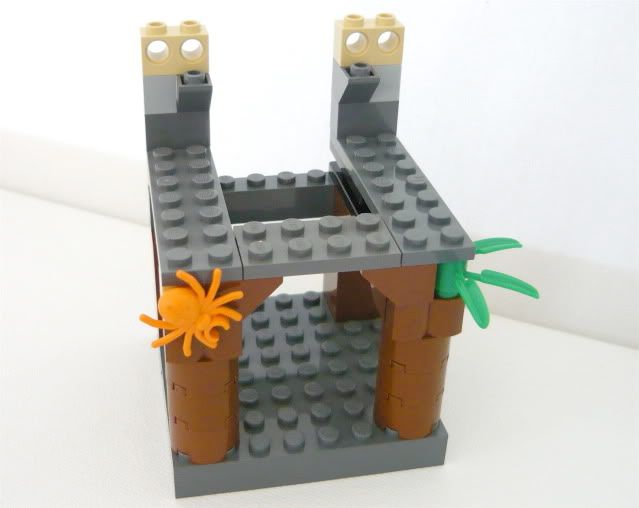 Steps 1 through 19 are complete, now can start on the movable part. The statues base.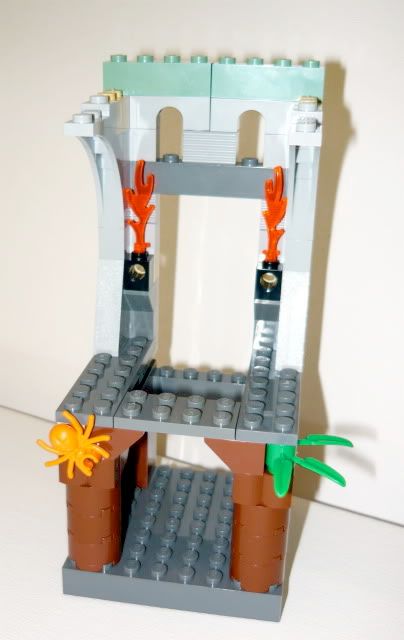 Here is a secret compartment for the Alchemy Piece. Maybe that is why Snape is sneaking around at night, maybe he hides his darkest most evil spells behind random statues.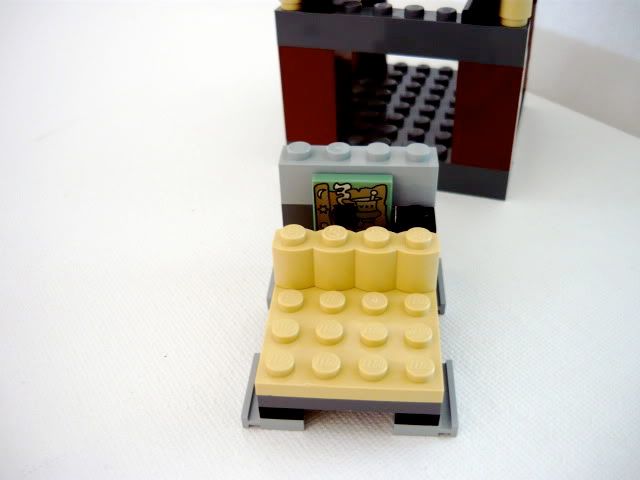 The secret compartment is revealed when the Statue is pushed back. But, it is behind the wall, so I'm not too sure how one's minifig is meant to get at it.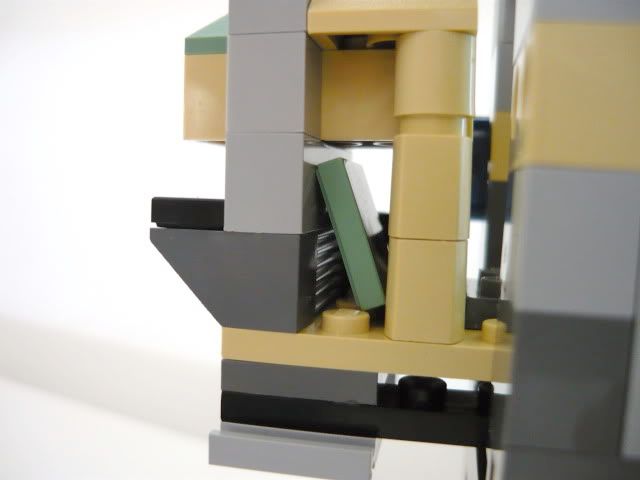 The Statue is now in place, and Harry's wand is in place...
Here we have the Technic piece that act as a lock for the Secret Passageways, it works with a Technic axle pin being inserted into a brick with a hole, then the Technic beam liftarm goes over that, so when a wand it inserted from the front it is a tight enough fit, so that when you turn it, the liftarm turns also, and 'unlocks' the Statue.
...Just turn it to your right and the Statue will be 'unlocked' ...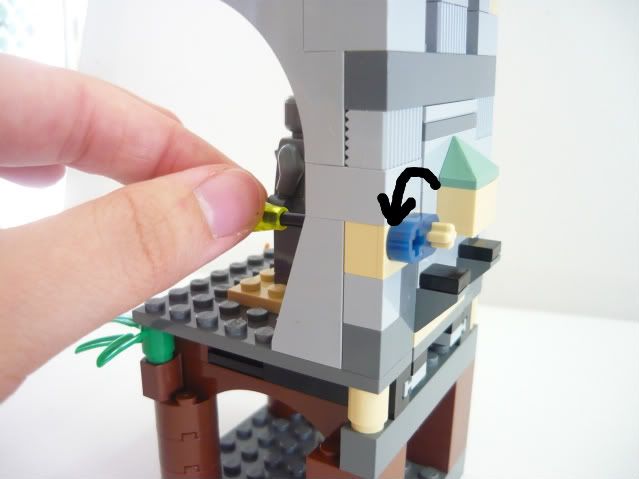 ...Then you can slide it back to reveal the hidden passageways
Push from the back to close it up again, the groove and door rail pieces make for smooth sailing. It glides very easily, and when in place sits perfectly inline, you would never know it was there.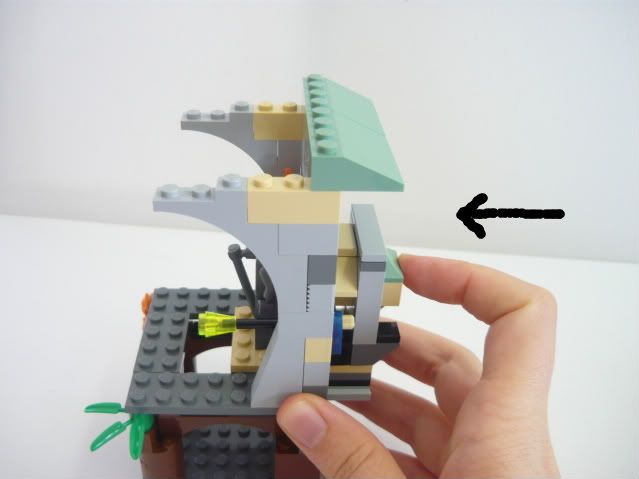 Here is a shot of the
Door Rail
piece, most commonly used on Lego trains, and the
Grooved Brick
in action.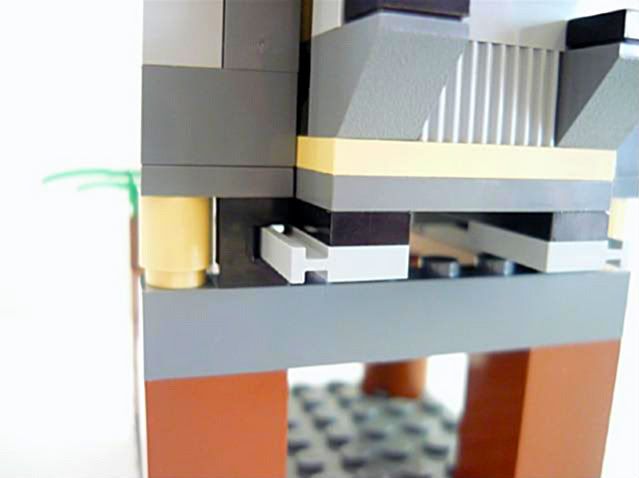 The Finished Product:
A front view of the completed set, with the Passage open.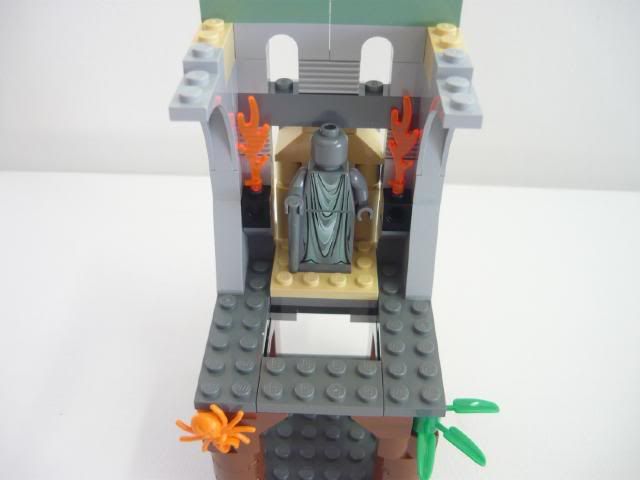 A top view of the set with the passage open.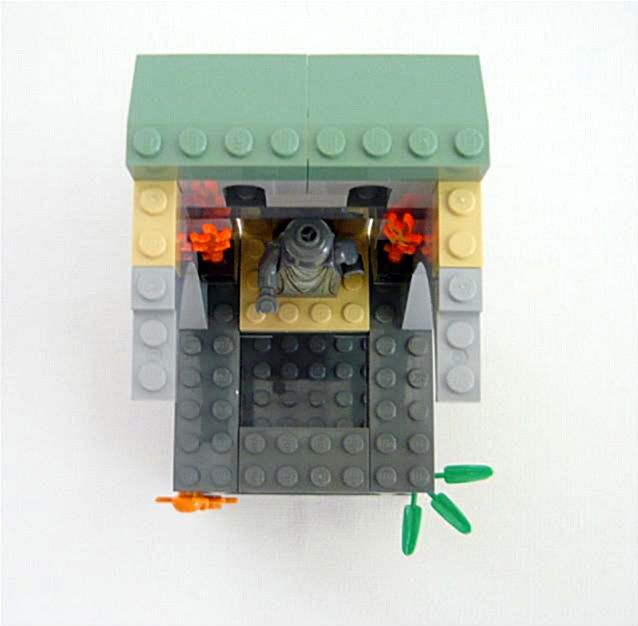 And a back view of the set, with the passage 'locked'
The complete set, including all three minifigures.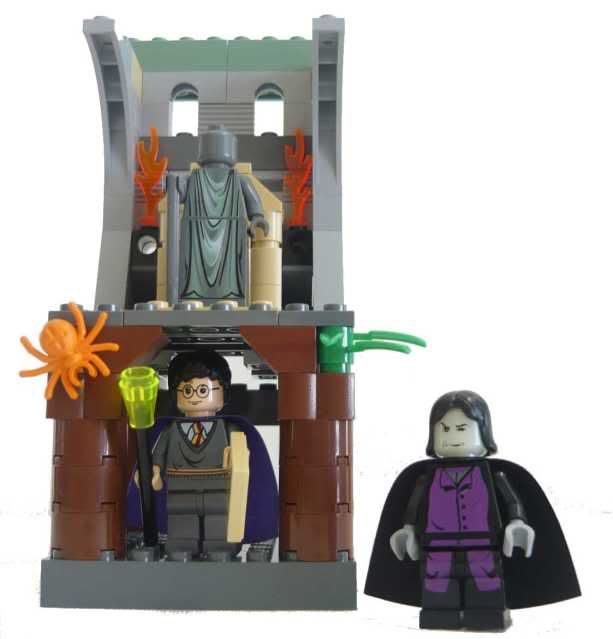 As It Should Be:
I have added a little bit extra to the passage ways, to give some extra room, in the original set there is no way that Snape and Harry can be on the base together without seeing each other, I guess that is why TLG have Snape hovering in the air on the box cover.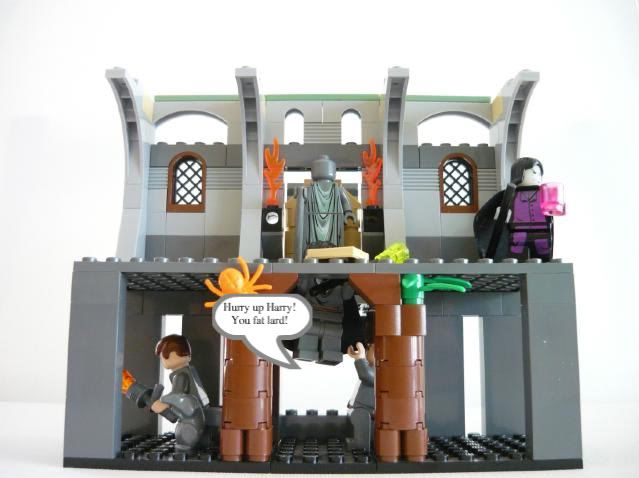 Fred Weasley. George Weasley.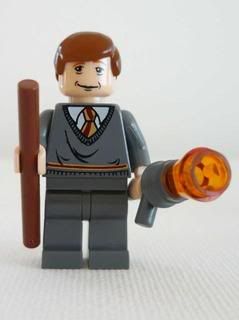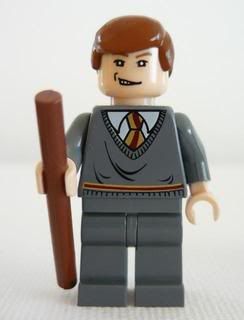 There are no official Lego minifigures for these characters so using the parts I had I have made what will be sufficient to show you how this set should look in my opinion. With the Weasley twins, Harry and Snape. The Weasley twins would have a brown wand each and be in uniform.
Severus Snape. Harry Potter.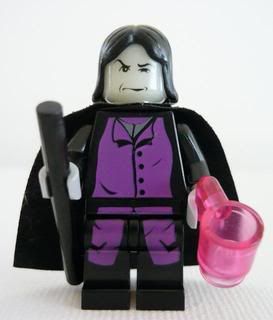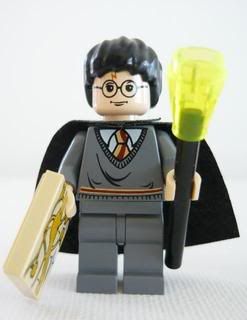 Snape would have a black cape, black wand and a pink mug. (for potions?) Harry would have a black cape, the map and lit up wand.
The Final Verdict:
Design:
8/10, I love the use of Technic and Groove pieces in this design, the set has a very nice castle feel about but if I have to complain about one thing it would be the fact that HP sets have SO many colors. It would look so much tidier if they cut out just a few.
Build:
9/10 This is a really fun set to build, not too small that it is over before you have begun and the two separate builds to make the one set makes the set feel even bigger.
Playability:
8/10 This is a great set to play with, (and as I added a bit extra, I have been playing with
it
constantly for the last week,) It is easy to change the smallest details and come up with something that looks completely different.
Minifigures:
10/10 Yet another Harry... well I love getting more uniforms so I can't complain and this set just wouldn't work with out him. I love the fact that Snape's head is Glow-In-The-Dark, completely random but makes it fun to play with (I'm currently using at as one of the Castle Ghosts) Then there is the statue, such a great minifig to have around, with so many possibilities, I think it would look great as a fountain in a City setting, or a Carving in a Studio or anything you can think off.
Price:
10/10, for such a great amount of pieces and three excellent minifigs, this set is remarkably well priced.
Overall:
9/10 I just love this set, it is well priced, it had so many great pieces that can be used in MOCs and the Minifigs are Super! If you don't have any HP sets and wanted to start somewhere, I'd say this set should be it, it has such great versatility.
Just for Fun: