Discussion for the Dead Men Tell No Tales Vignette Contest
Here was the original idea...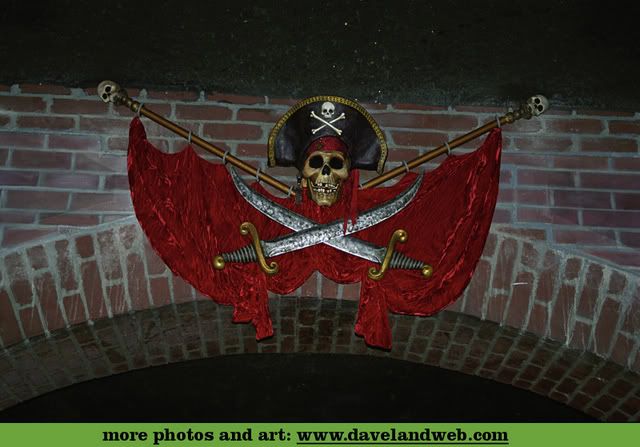 Psst! Avast there! It be too late to alter course, mateys. And there be plundering pirates lurkin' in ev'ry cove, waitin' to board. Sit closer together and keep your ruddy hands in board. That be the best way to repel boarders. And mark well me words, mateys: Dead men tell no tales! Ye come seekin' adventure with salty old pirates, eh? Sure you've come to the proper place. But keep a weather eye open mates, and hold on tight. With both hands, if you please. Thar be squalls ahead, and Davy Jones waiting for them that don't obey.
Well, the purpose of this contest is to give some credit to the classic DisneyLand attraction that has inspired not just a seris of movies, but has entertained audiences around the world. THis is commerateing the last attraction that the Great Walter Elias Disney before his death in 1967,and his 100th birthday this year.
I have decided to make a vignette contest based on a ride that is made of a bunch of very big vignettes. There has been alot of PotC movie stuff on BS, but no PotC ride stuff, so in honour of the Attraction that inspired it all! I look forward to what you will create.
The revised rules:
- The vig can be any size that has length and widths in multiples of 8.
- The vig can depict an scene from the Pirates of the Caribbean ride.
- Starting this Monday, you have until April 19th to enter your vigs before this thread is closed and my personal judging happens.
- Only three contest entry per person.
- Image size may be no larger than 320 x 240 (landscape or portrait).
- File size may be no larger than 100 KB.
- Any background image may be used for your scene including real models.
- Judging will be performed by Eurobricks members as a separate poll.
- Have fun!
After the thread is closed, I will take a couple of days for my private judging, then I will post my top 5, and a poll for people to vote in and decide which is the best in 3 categories: Build, Accuracy, and Figures. Unfortunatly, I cannot offer a prize except for winning the respect and admiration for your building skills from the Eurobricks community.
The competition his been arranged, so
submit entries in this thread
from Monday 16th of April onwards.
For those unfamilair with the Pirates of the Caribbean Ride visit the
Pictorial Synopsis thread
.