3798 Hannah Hippopotamus on Picnic meets 3721 Clive Crocodile on his Skateboard.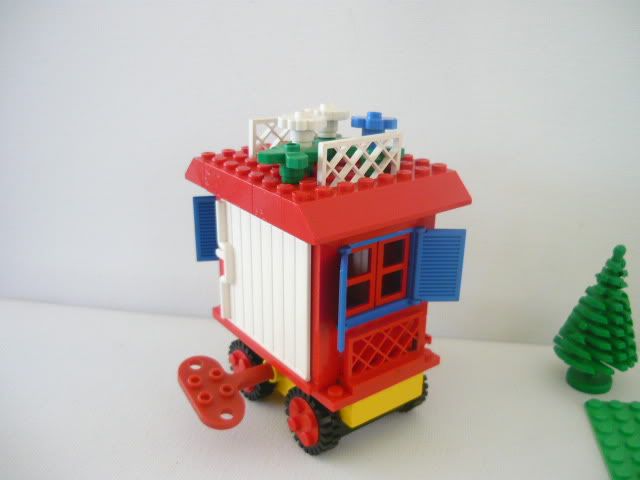 Hannah Hippo was traveling along in her Wind-Up Caravan when she came across a small patch of grass.
"This looks like the perfect spot for a picnic."
Hannah exclaimed.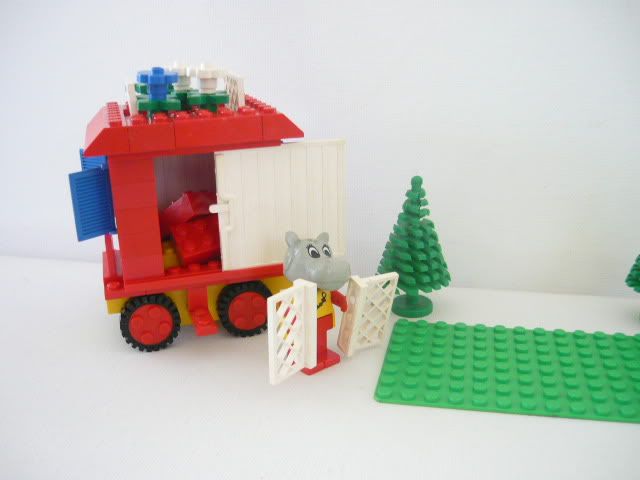 So she climbed out of her caravan and started to set up for the picnic.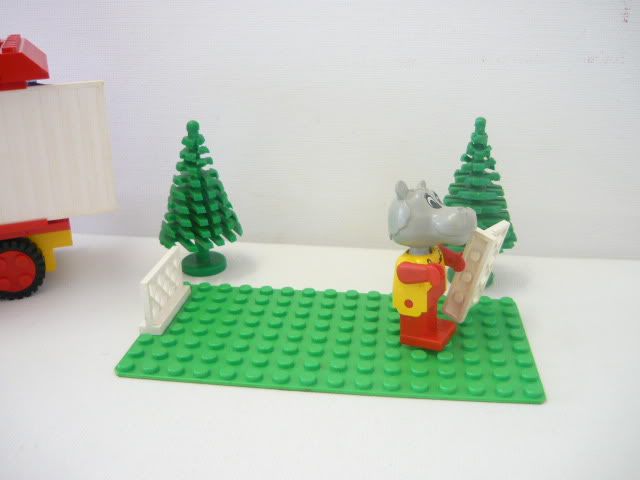 "I'll put these two white 1 x 4 x 2 fences down here..."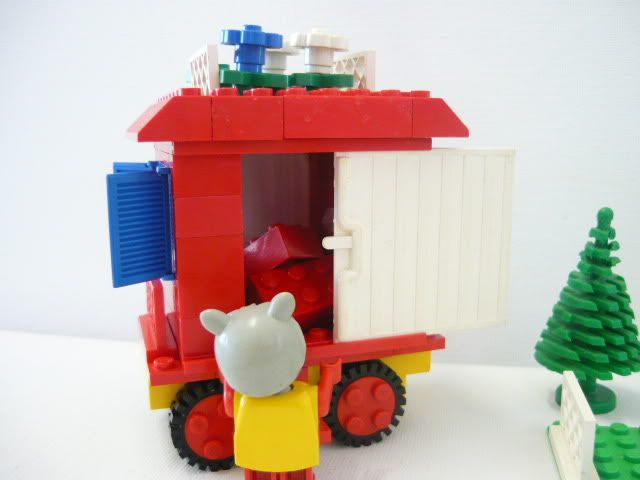 Hannah went back to the caravan and started to unload some more pieces for her picnic.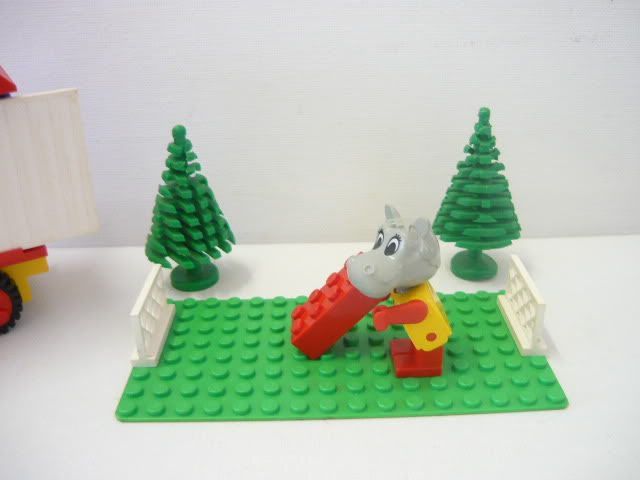 "I'll just lay these two Red 2 x 4 bricks here for the table base..."
Hannah muttered.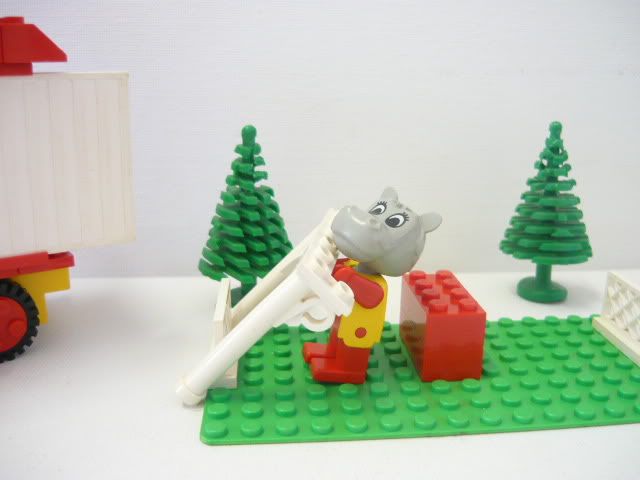 "... and this gorgeous 2 x 6 x 5 White Arch here..."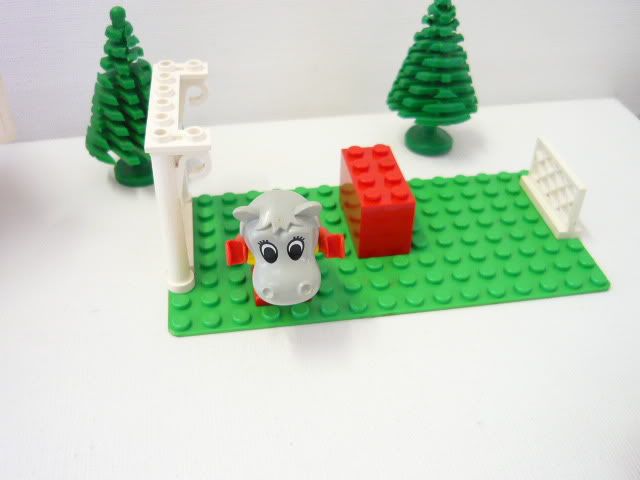 "OH NO, OH NO, OH NO!"
Hannah exclaimed loudly.
Whoosh! Clive Crocodile sailed onto the scene.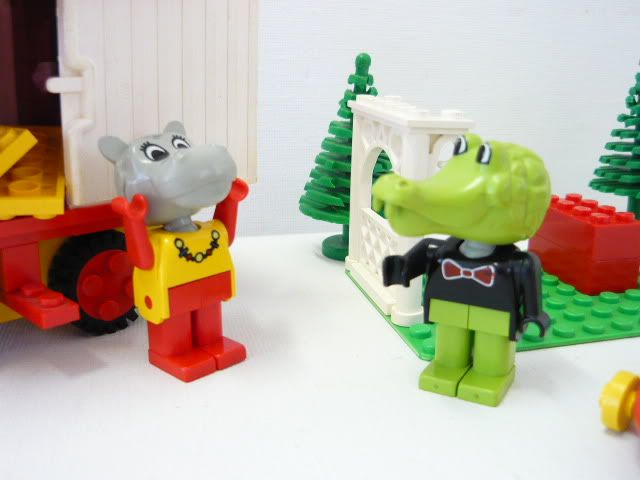 "What seems to be the problem here, my sweet Hippopotamus?"
Clive said smoothly.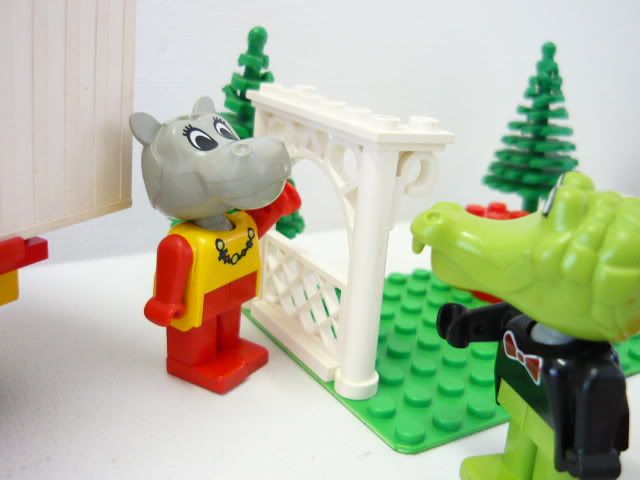 "I've looked everywhere and I can't seem to locate my second 2 x 6 x 5 White Arch, and my picnic will be ruined."
Hannah declared sadly.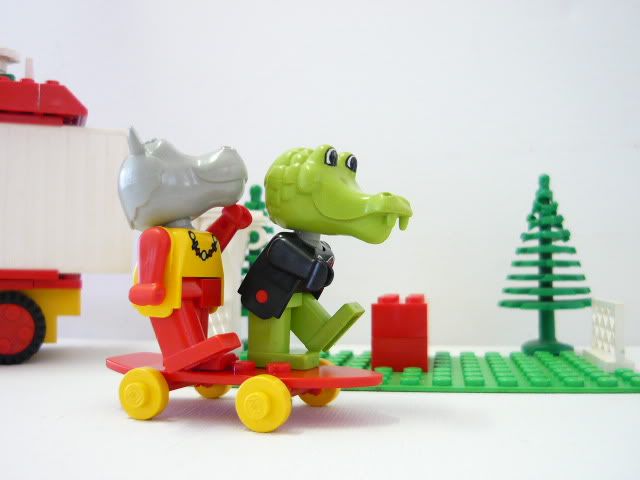 "Fret not sweet Hannah, I know just the thing to fix this problem of yours."
So Hannah and Clive scooted off on the skateboard, towards Stage Left.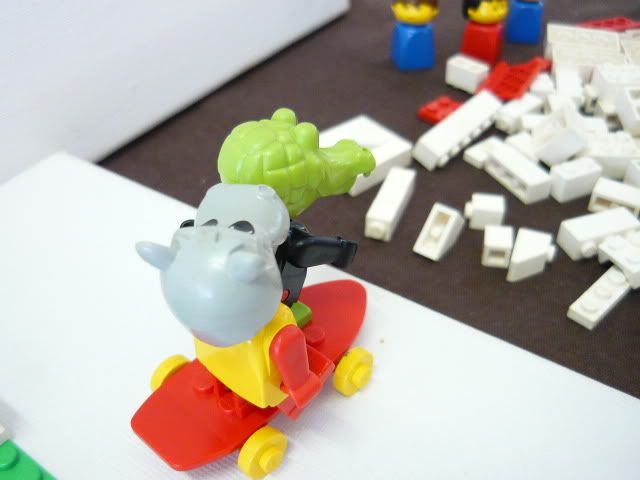 "This is just the place we need! I passed on my way here, and apparently all the pieces are just lying here, we can use whatever we want."
Clive told Hannah excitedly.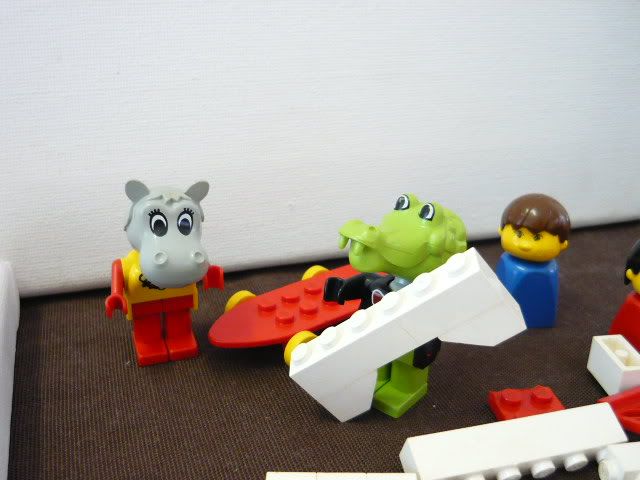 "Hmmm, now let's see. We'll take some of this."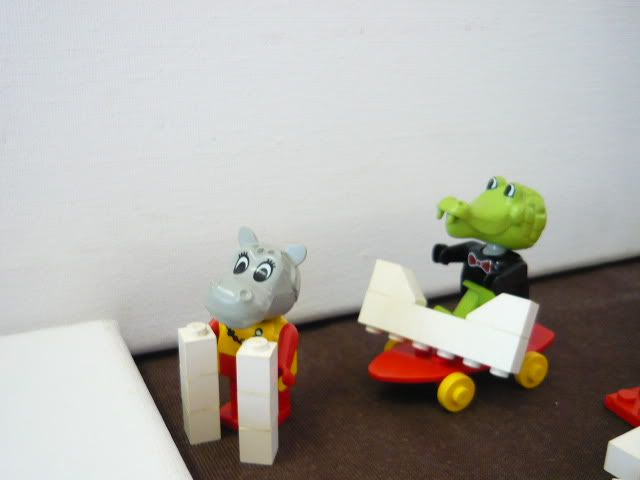 "And a couple of these too?"
Asked Hannah.
"Oh definitely!"
said Clive.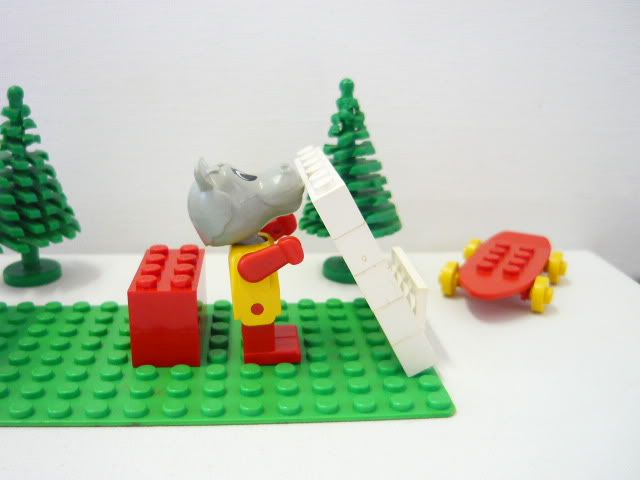 Soon Hannah was erecting the other White Arch.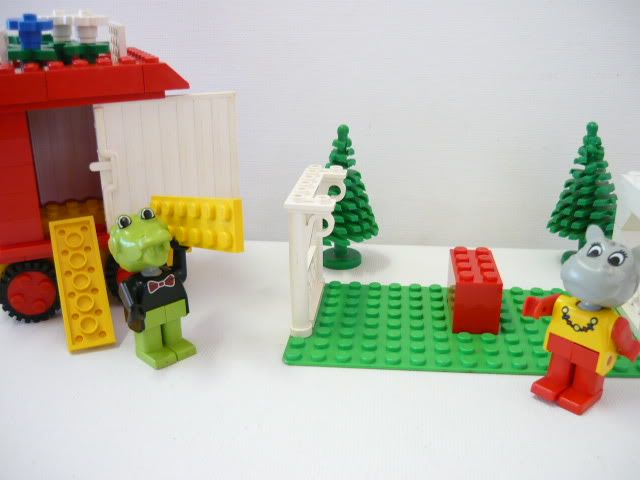 "I found these two Yellow 2 x 6 plates, where shall I put them?"
asked Clive.
"Oh, they would look fabulous on top of the White Arches."
replied Hannah.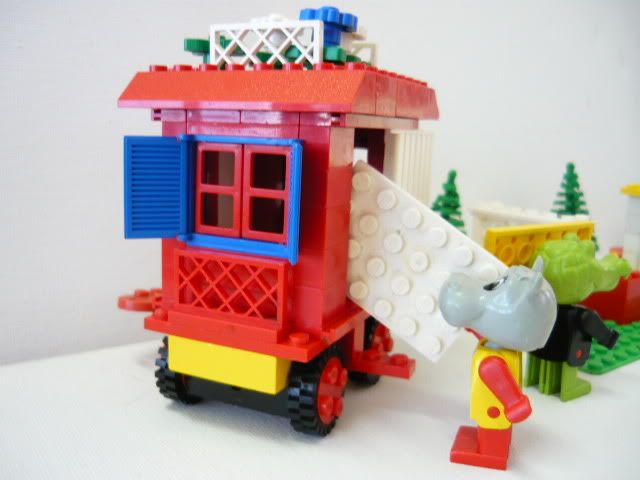 Hannah went back to the Caravan and got out a White 4 x 6 plate.
"This will do nicely as the table top."
said Hannah.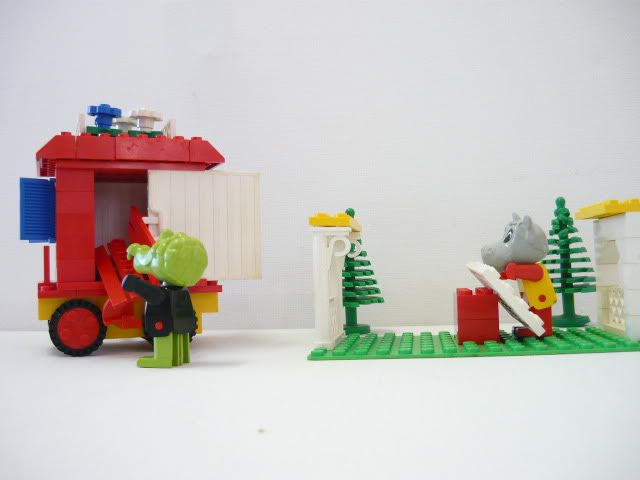 Meanwhile Clive was getting two Red Fabuland Bench Seats out of the Wind-Up Caravan.
"This is starting to look great!"
Hannah exclaimed as she carried 1 of 2 Blue coffee cups and a Red Flask with handle to the table.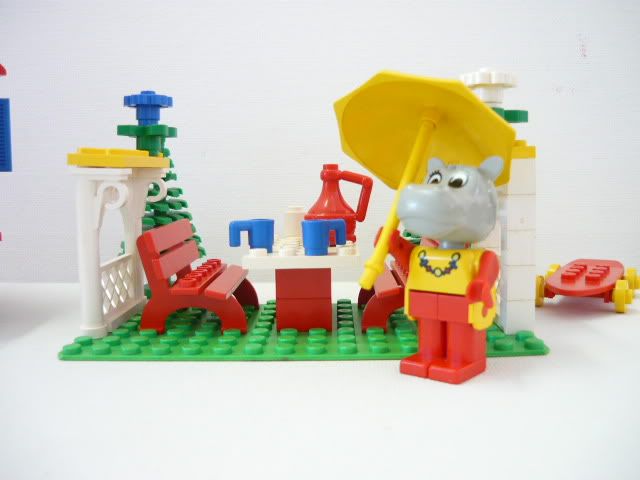 "Thank You Clive, for your help. Would you like to join me for a picnic now?"
Hannah asked politely.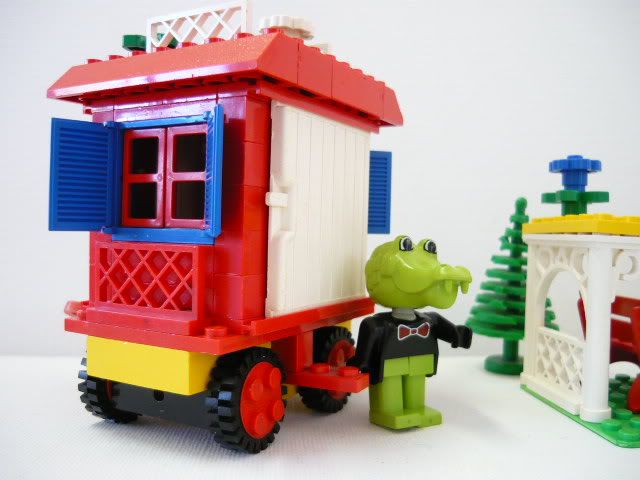 "I thought you'd never asked."
Clive chuckled.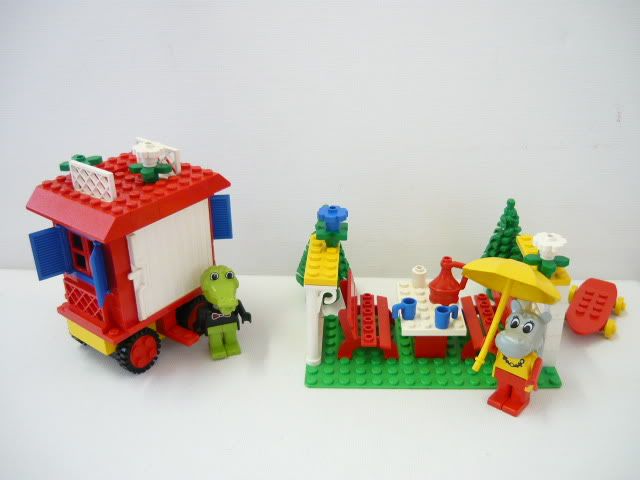 The End!
Edited by Rufus, 16 July 2011 - 07:39 PM.
Indexed