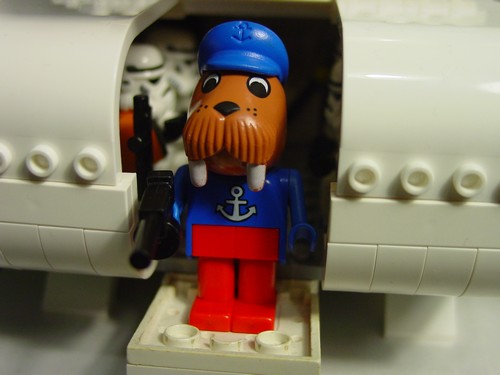 I'm a regular reader of The Brothers Brick and recently they
blogged about one of Hinckley's MOCs
and the poster said that he feels Hinckley is responsible for the new Fabuland trend. I've been thinking about this for a while, and a few days ago I was discussing something else with Hinckley and Fabuland come up in the conversation. Here are some excepts from it...
Quote
Sinner: On the subject of Fabuland, I've been considering starting a poll; "Who is responsible for the renaissance of Fabuland"... (The answer is me, but I'm curious what others think...)

Hinckley: You know, them's fightin' words. Fabuland Housewives predates your goofy avatar...

Sinner: Very true, but what was the result aside from that interview in Brick Journal?

Hinckley: Did you get interviewed by BrickJournal??
The way I see it,
Fabuland Housewives
was
first by a large margin, but it wasn't until I turned up here with a Fabuland avatar and got
Hinckley frustrated about his turkey
that others started using Fabuland avatars. However, after Sir Nadroj
made some cool MOCs
that
others
started making Fabuland MOCs more.... Then there's
imperialshadows and the FBG
; perhaps it's him!
So what do you think? Is it me, Hinckley, Sir Nadroj, imperialshadows... or someone else? (Give me a good reason and I'll add another name to the list.)
EDIT:
sir dano
claims he is because he coined the term "The Fabuland Edge". I
boo him
for this claim as the Renaissance of Fabuland was before that, but I've added him anyway!

Gylman
for his Fabuland keychain collection and display.