DJ Force the legendary Topic Killer while doing some
investigating
discovered a mystery Exo-Force promo set. Due to the wonders of the replacement parts page on S@H he learnt what was in it... but how the set actually looks still eludes him. So let's guess! :-D
According to DJ Force and Lego, this is the parts list;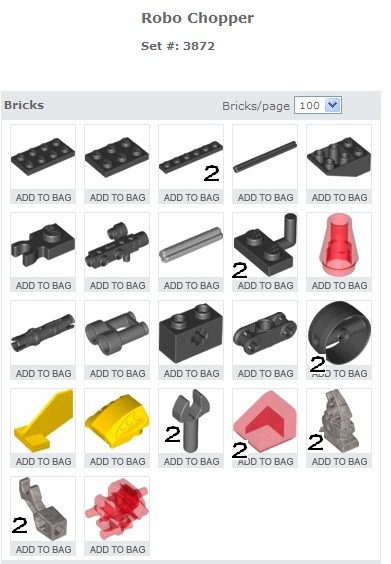 Of these some parts are used twice. Oddly, I have marked those with a "2".
Rules of this contest are:
You must make a Robo Chopper. This does not mean that it needs to have a rotating blade, it just needs something that can be labelled as one. EDIT: imperialshadows accidently reminded me that some see a "Chopper" as a motorbike. I see a "Chopper" as a helicopter. You can see it as what ever you want... providing it is a Robo Chopper!

You must use all of the parts, including the doubles. If you can't find a use for one then you can leave it out. You must say if you do this. No extra parts are allowed.

Correct colours are preferred, but not required.

When building, think Lego. That is don't use any methods that Lego doesn't use. The goal here is to guess what the set is supposed to look like.

Only three pictures are allowed per entry. :-D

Digital entries are allowed.

If anyone makes a duplicate MOC the second will be an invalid entry. By duplicate I mean exact.

Entries must be in by February 14th 21st. Your entry can be altered as many times as you like up until that time. Entries are posted here.
Voting:
There will be two votes. The first, for the "Best MOC". This will determine who wins. The second, for "Most Accurate", is just to see if we at Eurobricks can guess what Lego will do.
Prize:
Nothing except the warm feeling inside that you just may have what it takes to be a Lego designer. X-D