I did construct a tank wagon...of sorts...but I wasn't happy (it looked to blocky and would require special facilities for loading/unloading). I then set out to build a brakevan, which in reality never really needed a reason not to be anywhere.
The most obvious look-a-like would be the Great Western Railway's Toad type, which was used in Britian from the 20s to the 80s, the last 20 years in departmental/engineers use):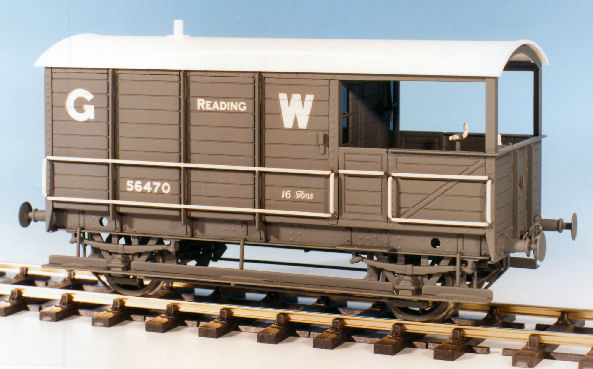 Here's my version:
An interior shot from the end, showing the brake wheel and the wall with 'imitation door' (i.e. 'window' to doorknob to give illusion of a door):
Overhead shot of the interior, shoring the desk & chair, and repositioned door:
A shot of the other end, showing the windows to allow light into the enclosed part of the brake van; also notice the lamp bracket over the left bufferbeam:
Unlike some MOCs, I've built mine with a view to playability...
The brick colour variance is partially intended to make the brake van look old. The underframe is two 2x6 black plates and a 2x8 black plate for the main 'rib' of the underframe (for wheels and buffers), with 1x8 plates 'hung' from the 'floor' with 2x1 bricks as the footbaord supports (the footboards are 1x12 black plates).
Edited by Matt Dawson, 02 February 2010 - 03:03 PM.