Congratulations Cutlass_IZ! Your review is the 200th in Trains & Town!
Make sure you check out EB's Front Page. -TheBrickster
----------------------------------------------------------------------------------
Set: 8401
Price: $14.99
Minifigs : 4
Other: 1 BOOM box, 1 Fire Hydrant, 1 Traffic light, 1 Bench, 3 street signs, 1 trolley and 1 parcel, 1 megaphone, 1 walkie talkie, 1 yellow cup, 1 briefcase.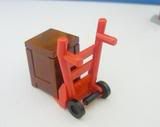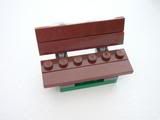 The standard red trolley is the same as in many other sets, useful but common... however the parcel is new to me, nice size and shape, brown paper package tied up with string... um, yeah! I like the box.
The park bench/Bus stop bench is very nice, simple but very effective, with a reclining back. I guess that comes in hand when some punk kids come along and try to kick the back off.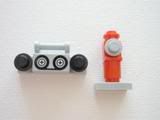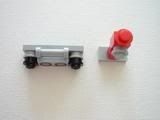 The 1980's BOOM box is cute, very retro and reminiscent of earlier sets from TLG, a good piece to use in other situations... Police interviews... Recording studio... for reporters... etc. The fire hydrant seems a little 4+ to me, but I like it none the less.

This set contains one set of traffic lights with
red
yellow
and
green
lights. I don't know about other countries but in Australia we have
ORANGE
as the middle/caution/amber light, so I immediately fixed this oversight using a piece from the Gryffindor fireplace. (doesn't it look much better?)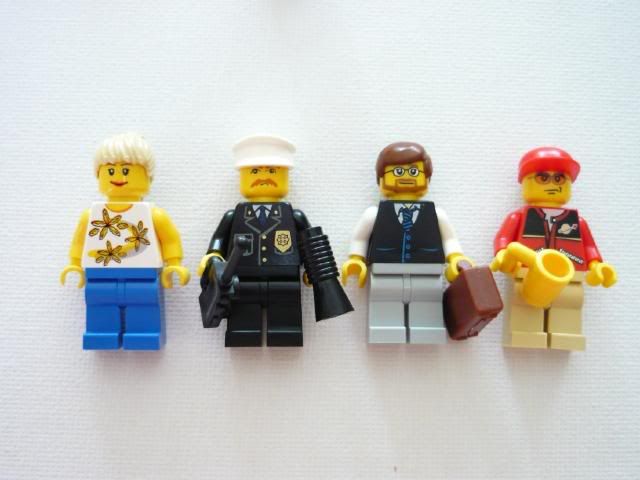 I must say the design on the female minifigs sleeveless shirt is also reminiscent of the 80's and I find it and all its silver shining glory to be absolutely disgusting, nice blond hair though so she is not all bad.
So... this is how the story begins...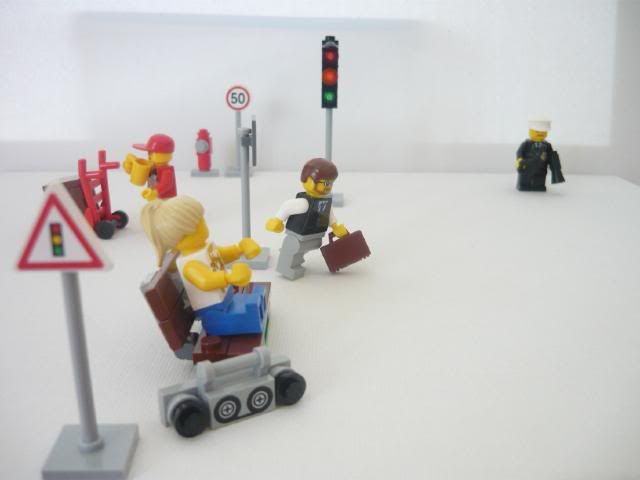 One day, Blond Lady is waiting for a bus whilst listening to her boom box

, and Business Man is crossing the road, Mr Plod is walking the beat in the background and Mr Delivery Guy is drinking some coffee while doing the post.
Oooh I love this song, I might just turn it up...

La La LAAAAAAuuuaaah
Just walking the beat, just walking the beat
I am in such a hurry... rush rush.
Hmmm, coffee good.
I might just turn this up really loud.... La LA LAAAUUHHH!!!
WOAH, that's loud.
Heyyy, where did coffee go?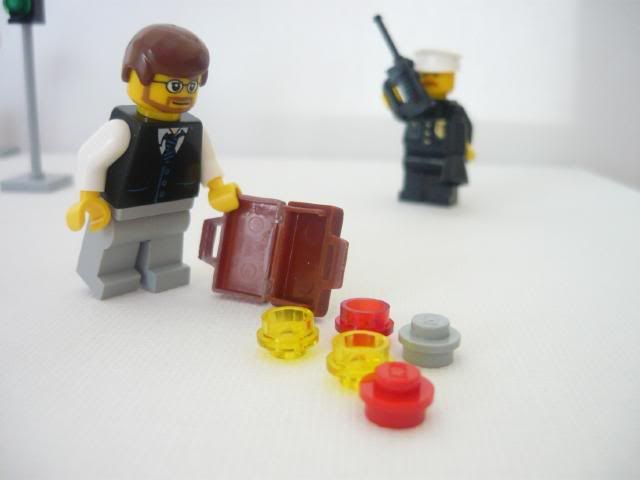 The loud music made me drop my briefcase, now all my spare parts have fallen out.
Uh oh! I see trouble a brewing.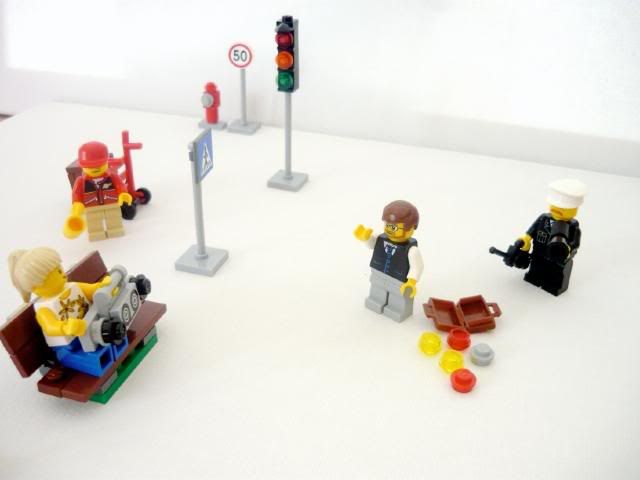 Hey lady, turn that down, you made me drop my spare parts
Don't make me come over there.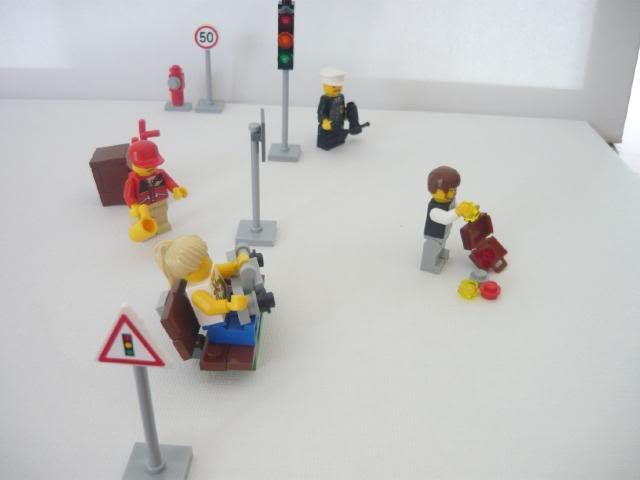 Ugh, no coffee.
Just walking the beat, just walking the beat
Damn spare parts, how did I have all these in here?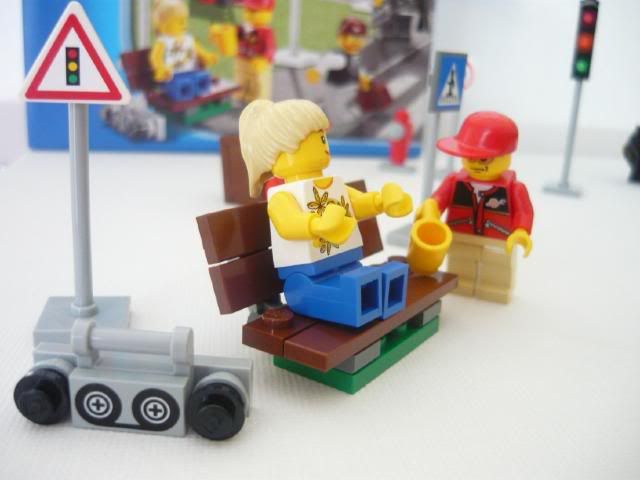 Hey lady, I've got no coffee!
Your point being?
You're a woman aren't you?
And that is just when 'click' someone took the cover shot for the box.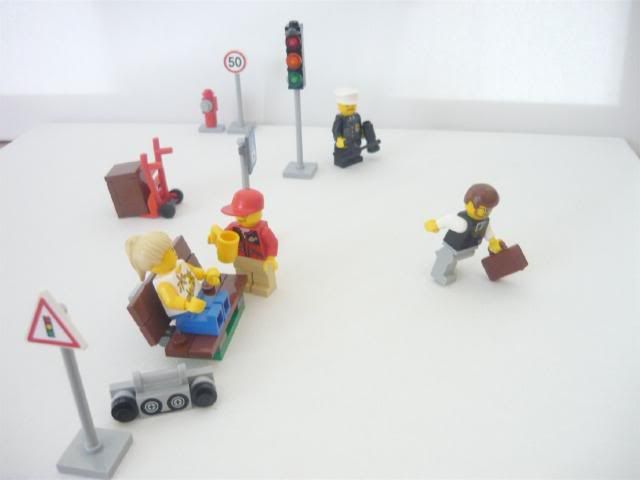 Aren't we all glad it wasn't taken a few seconds later... or else is might turn out like....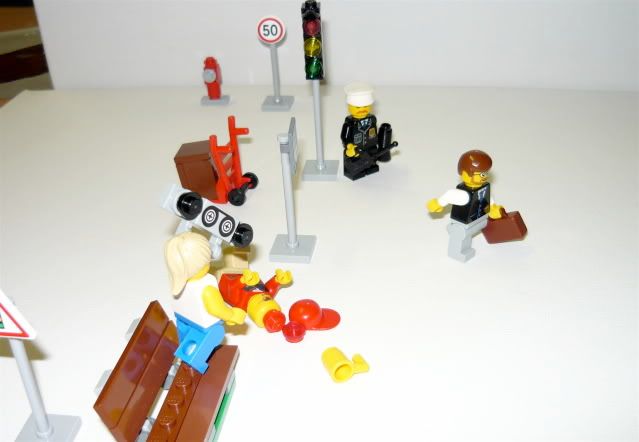 Overall it's a good little set and lots of fun. I'm glad a bought it.


Edited by Rick, 24 October 2011 - 07:51 PM.