The first night in Hogwarts after the assault of the Death's Hallowed was truly a restless one. How could anyone sleep when murderers might be lurking right behind your door?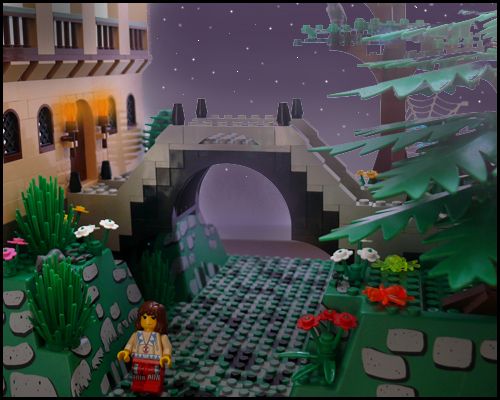 Brandon Townsend snuck out of the castle into the outskirts of his favorite place: the Forbidden Forest. With the Aurors in guard, it hadn't been an easy task, but Brandon was a child of the nature, and moving silently was just one of the traits he had picked up from the trips to the wilderness.

"Cuddles! Here boy!" he called.
Out of the forest came a giant three-headed dog, a descendant of the past guardian of the secret corridor on the third floor of Hogwarts.

"Good boy!" Brandon said affectionately. "With the school in turmoil, now is the perfect time to claim back this enchanted land to the creatures it really belongs. Go inside and have a feast, Cuddles!"

So riled up about his plan to get back at the humankind for raping Mother Nature he was that he didn't notice the dark figure on the bridge above him.
"Avada Kedavra!" rang the most ominous of spells in the night. And Brandon Townsend fell to eternally sleep on the land he so cherished.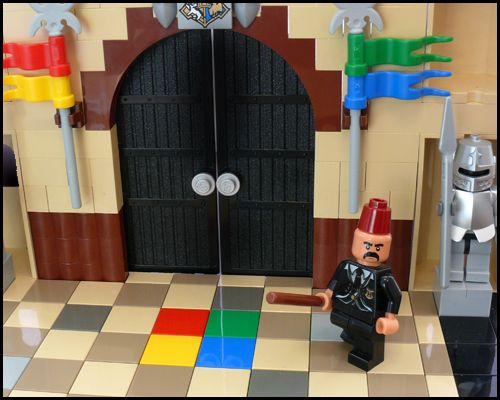 Inside Hogwarts, the caretaker Oraman Farbod was making his nightly rounds. He had done them every night from the day he had arrived at the castle, and he wasn't about to stop them for some pesky dark wizards. If anything, now he needed to be extra alert.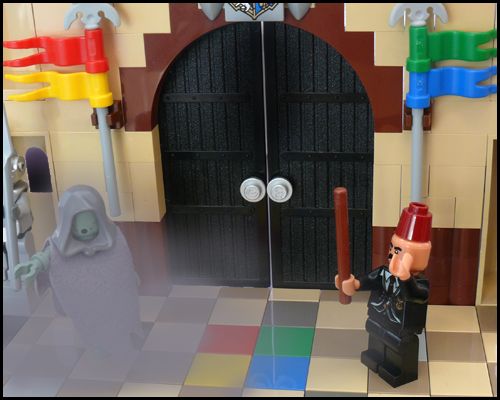 Out of a sudden a terrible chill overcame him, and in front of him floated a ghastly Dementor. As frightened as he was, Oraman was prepared even for this.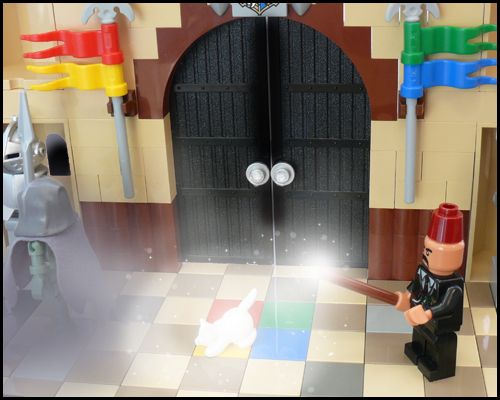 "Expecto Patronum!" he shouted, and a kitten made of pure light jumped to shield him. The magical light banished the Dementor instantaneously.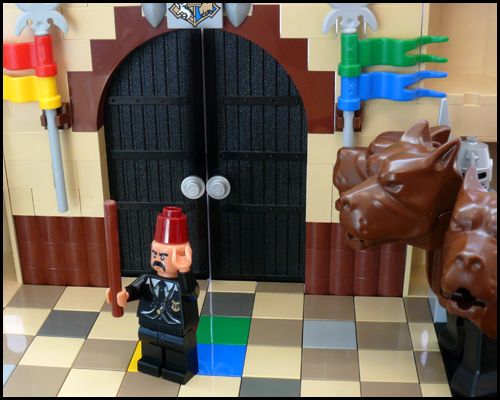 Oraman congratulated himself for being so brave. He was just what Hogwarts needed at this dire time, he thought.

But his indulgement in his own boldness made him unaware of Cuddles creeping behind him.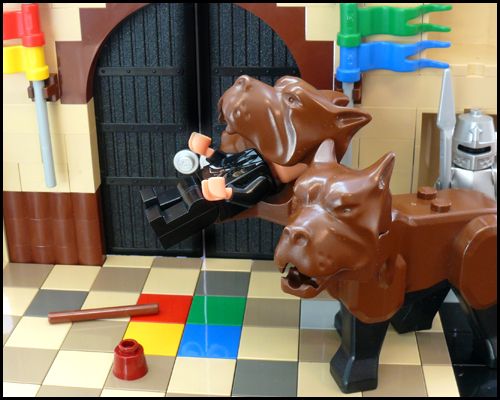 The other two heads didn't even get a bite as the central head of Cuddles gulped poor Oraman down in one piece - leaving only his inherited fez and magic wand behind.

Burping contemptly, Cuddles strolled away to find a safe hiding place to spend the day. Next night, it would feed again.
As the sun rose, the petrified body of Angela Weasley was found near the entrance to the Gryffindor Tower. She was hastily taken to Nurse Hearth.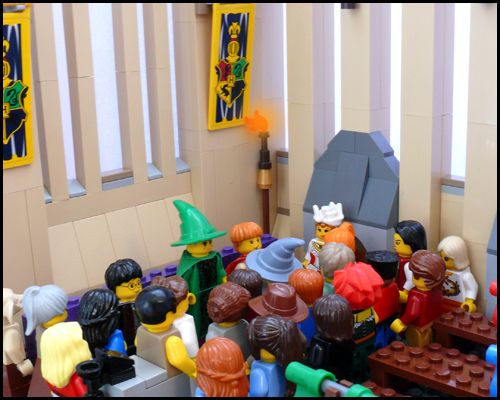 In the morning, everybody gathered at the Great Hall to hear the latest news about the events of the night. They were devastated to hear about the deaths of Brandon and Oraman.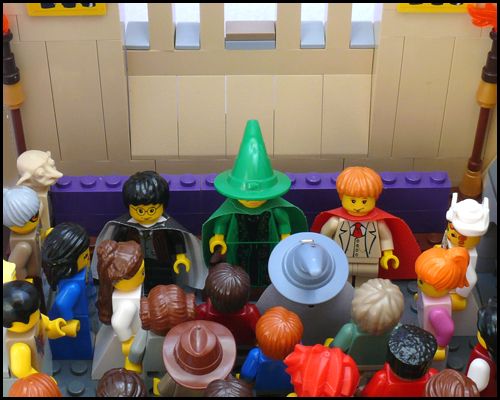 "After a thorough investigation of the remains of Brandon Townsend", said Auror Potter. "We have come to the conclusion that he was

impartial

in this tragedy. On the other hand, he didn't belong to the Death's Hallowed, but at the same time, he seemed to have wanted everyone dead."

"As for Oraman Furbad, he was an

innocent

man through and through", Auror Weasley continued. "It is sad to lose such an honourable man."
"Fortunately it is my pleasure to announce that Angela Weasley has made a full recovery from her encounter with the Petrificus Totalus spell", Headmistress Minerva McGonagall announced.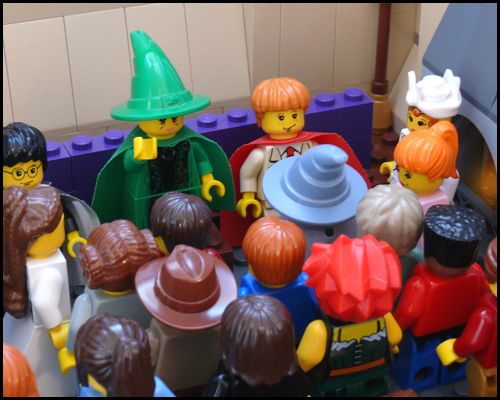 "But we must not let these losses make us lose our goal", the headmistress continued. "We need to find out the culprits among us, and save not only ourselves, but Hogwarts and the entire wizarding community."

"I'll give you some time to think on who to vote, but I urge you to voice out your opinions today."

Everybody started talking, keeping a close eye on each other.
Rules:
1. There are two opposing sides in this game, the Death's Hallowed and the Innocent. The Death's Hallowed win when they outnumber the others. The Innocent win when they've vanquished all of the Death's Hallowed.
2. Each day, the players will vote out one amongst them with a majority decision. To vote or to draw back your vote, you must use the following sentence in your post: vote: character/player or unvote: character/player. If you want to change your vote, you must first unvote before the second vote is calculated.
3. During days, there is a 24 hour period before anyone can vote. Once the majority decision is reached, you cannot unvote the player in question anymore.
4. Every player will get a short list of items, spells and skills at their disposal. These can be used only at nights.
5. Each night, the players can use one of their items, spells, OR skills by sending the host a PM about it. Some items and skills have an automatic effect, which will be handled by the host. Items can be handed over to another player, but that will cost the giver the night's action.
6. To give someone else your item, send the host a PM stating the item you wish to give, the name of the player you wish to give it to, and whether you want to remain anonymous or not. Items cannot be exchanged without the host acting as an intermediary.
7. The night abilities have a pre-specified order of effect. If you don't send your night ability by the time limit I've given each day, you will miss your chance to use it.
8. The Day-topics are meant for active players only, so do not post in them if you are already out of the game. The Discussion-topic is open to everybody.
9. Do not edit your posts, because it is considered unfair to other players.
10. Do not directly quote anything I've sent to you via PM. Use your own words, please.
11. All out-of-character discussion must be kept in the Discussion-topic. Likewise, all talk about game tactics and roles must be kept in the Day-topics and PMs.
12. Since this game deviates quite a lot from other Mafia-games, please ask any questions or doubts you might have directly from me, and you will be answered.
Players:
Hogwarts Faculty:

Brigelda Hearth
, nurse (
WhiteFang
)
Crudo Alakhazam
, teacher of Charms (
Big Cam
)

Eloquence Malleus
, teacher of Transfigurations (
Shadows
)

Jingle
the House-elf (
Dragonator
)

Neville Longbottom
, teacher of Herbology and Head of Gryffindor House (
professor flitwick
)

Rhubarb Uxley
, teacher of Care of Magical Creatures and Head of Hufflepuff House (
Escape the Fate
)

Sicilia Bathory
, teacher of Potions and Head of Ravenclaw House (
Eskallon
)

Stephanie Kingston
, librarian (
Zepher
)

Tea Ching
, teacher of Divination (
iamded
)
Hogwarts Students:
Angela Weasley
, Gryffindor (
Burman
)

Desiree Jackson
, Gryffindor (
badboytje88
)

Francis Rowan
, Ravenclaw (
ADHO15
)

Harriet Pewter
, Slytherin (
YG-49
)
Jolie Jadis
, Slytherin (
Lord Arjay
)

Loki Malfoy
, Slytherin (
ILikePi
)

Nene Grandstaff
, Hufflepuff (
Millacol88
)

Prion
the Centaur, Hufflepuff (
Forresto
)

Rocky Broomwell
, Gryffindor (
sok117
)

Sheila Bones
, Ravenclaw (
Matn
)
Todd "Bulltoad" Bulstrode
, Slytherin (
Roncanator
)
Valerie MacArthur
, Ravenclaw (
Inconspicuous
)

Xander Lovegood
, Gryffindor (
CallMePie
)
Others:

Cuddles
the Cerberus (monster)
The Deceased & The Confined:

Brandon Townsend
, Hufflepuff (
Oky Wan Kenobi
) -
Impartial
(killed on Night One)

Oraman Furbad
, caretaker (
JimButcher
) -
Innocent
(slain by a monster on Night One)
There are 22 players in the game, so it will require 12 votes to convict someone. Voting starts 24 hours from now.