After establishing the architectural designs for EB's city emergency centers it's time to discuss and vote for infrastructure facilities. First off is the airport.
As with hospitals we didn't get that many airports, either. Then again, it's not a fair comparison since they serve different needs.
So, which one is your favorite? Vote here and share your thoughts about the set(s) :-)
Here are the candidates
(Click thumbs for bigger pictures)
1. 6392 Airport
The first minifig era airport came in 1985. Its size reminded more of a small town airfield
with a main building but that was the general town design at the time. With 8 minifigs,
among them two females, it came with a good assortment of accessories for its size.
Notice the political correctness by using a female air traffic controller?
2. 6396 International Jetport
Five years later, with booming tourism, a restoration of the airport was needed. The old
one was destroyed and a new one in a more touristic place was set up to also accomodate
tourist attractions, like helicopter tours. The main building was re-designed to welcome the
passengers in a friendly, vacation-like atmosphere. Personnell stayed the same.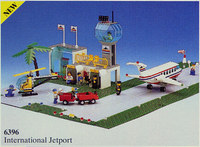 Thanks to hinckley39 for pointing out this set which I missed.
3. 6597 Century Skyway/10159 LEGO City Airport
Almost 10 years after the first airport LEGO City has grown and needed an upgrade of
its air traffic facility. The architects came up with 6597, a very nice (re)design, blending
in perfectly with the town designs of the time. The structure of the main building stayed
more or less the same, but it was expanded. So was the tarmac, and the tower was
separated from the main building. With the ever growing trade and transport needs it
now featured space for a transport helicopter. Also, 12 minifigs accompanied the set -
which is a
heck of a
lot of 'em. The redesign also prompted TLC to rename this set to
something catchy like "Century Skyway", a truly fitting name.
People were so pleased with this design that when restauration and maintenance were
needed another 10 years later no new design was developed but the old design re-
newed. The set was renamed to City Airport and had a few more pieces because old
molds had to be substituted by newer pieces.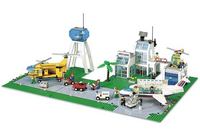 4. 7894 Airport
In the meantime LEGO town grew into a bustling city. The airport needed another upgrade
to serve bigger planes "comin' to town". So, only two years after the last maintenance job
a new airport was built, its design adapted to the overall city look. As with everything new
today costs had to be cut and personnell had to be laid-off, hence the latest airport comes
with less minifigs, no tarmac, and looks like a modern re-design of the very first one. Also,
the helicopter was cut because tour bookings were declining...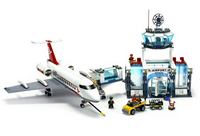 Well, which one is it?
I will pin this poll for the voters' convenience and (try to) declare a winner in two weeks time, September 21. After that I'll unpin it again and you can find it via the City Index and still discuss and vote if you haven't already.
Vote on!
© you know who...
X-D