Set:
Lego System Harry Potter 4755
Year:
2004
Pieces:
242
Minifigs:
2
Animals:
1 Dog, 1 Owl
Price:
US$ up to 119.00, GBP up to 69.99
Recommended Age:
7 - 12
Brickset
Peeron
Brickshelf
Not to be confused with the 4695 Mini Knight Bus, this set containing 242 pieces (most of them being purple) from way back in 2004, still holds a great deal of charm. I've taken it out of storage, dusted the pieces off and am going to take you on a little journey as I put it all back together.
HOLD ONTO SOMETHING!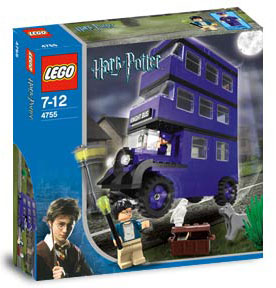 The Contents:
The Instruction Booklet and a small poster!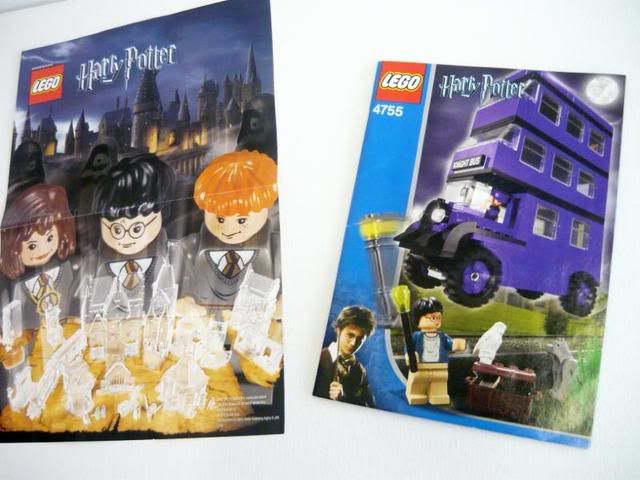 A random page of the instruction booklet.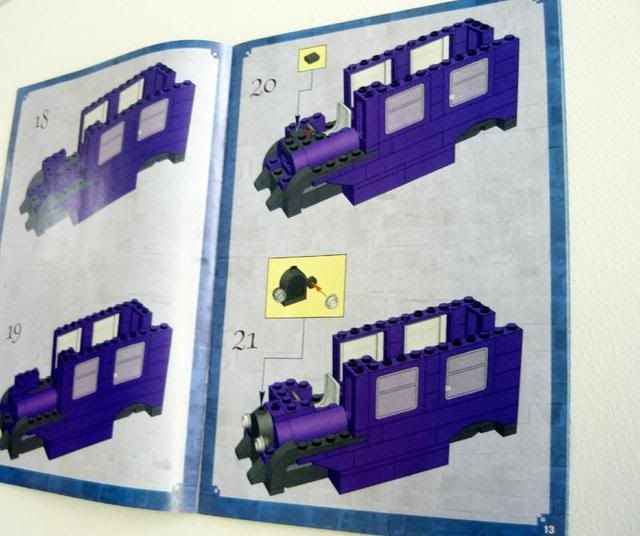 The pieces (excluding minifigs).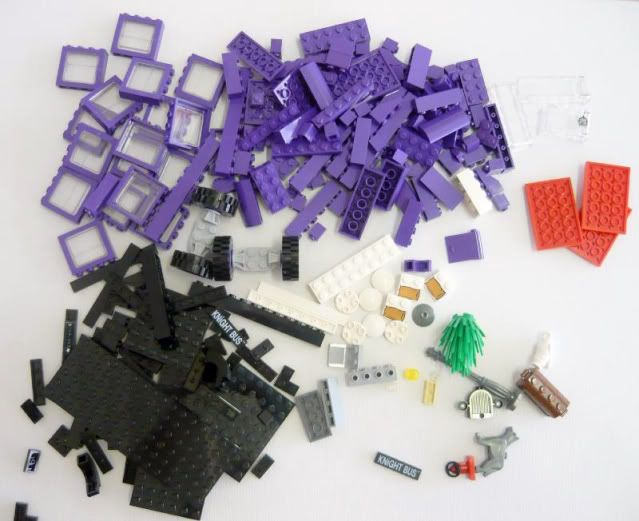 The minifigs (Harry Potter and Stan Shunpike) and various pieces.
The Build: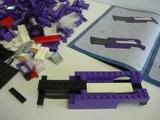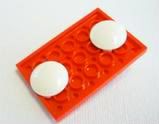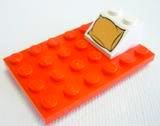 A few pages in an we get to assemble the first bed, with lovely bright red sheets, comfy looking pillow and smooth pieces on the bottom so it can zoom up and down the bus.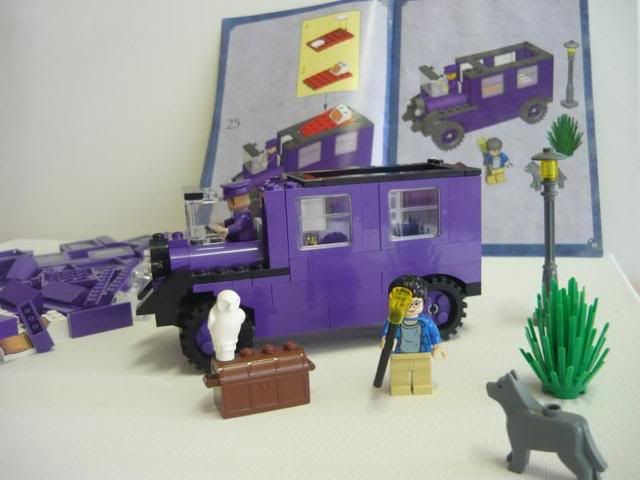 At this stage of the build there is a picture in the Booklet with Harry and all his things, as if to say this is a good place to stop if this is getting too hard, it looks good right? I can just imagine Harry's face when that turned up... "So where is everyone else going to fit?"
Shall WE continue? I think so!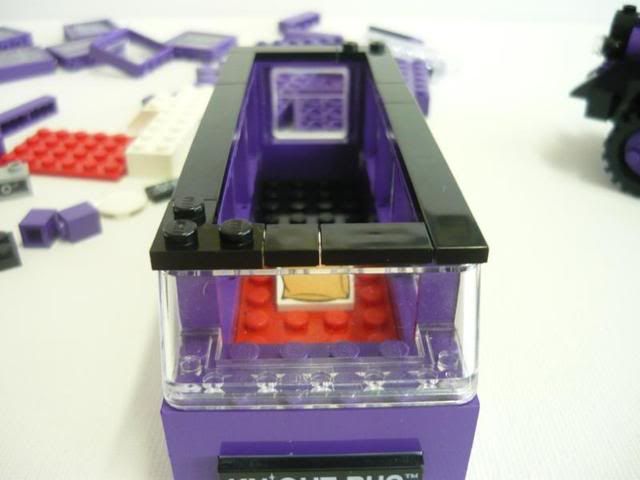 Now we are onto the second level. Is there no such thing as a 1x3 black snot? If not then this would have been the perfect time for TLG to create one. Personally I think here looks very messy! But moving on... We've got to go rescue Harry!
The top of the bus is done.
And we are off on our way! Yes Stan, you should be looking at the road!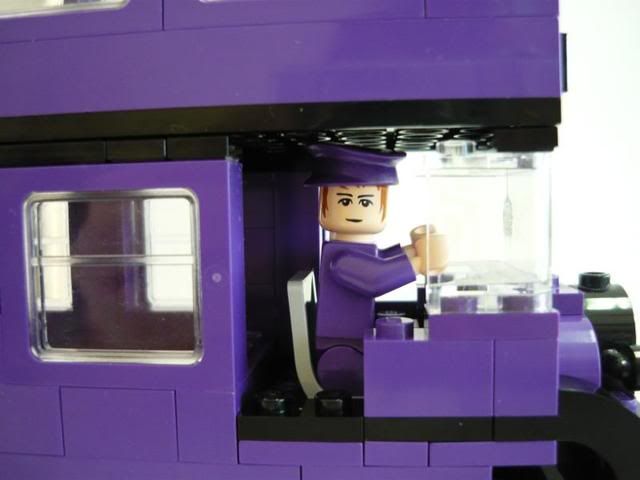 Thank Goodness We got there in time or the extremely small Grey 'Grim' would have eaten him?!? Or something.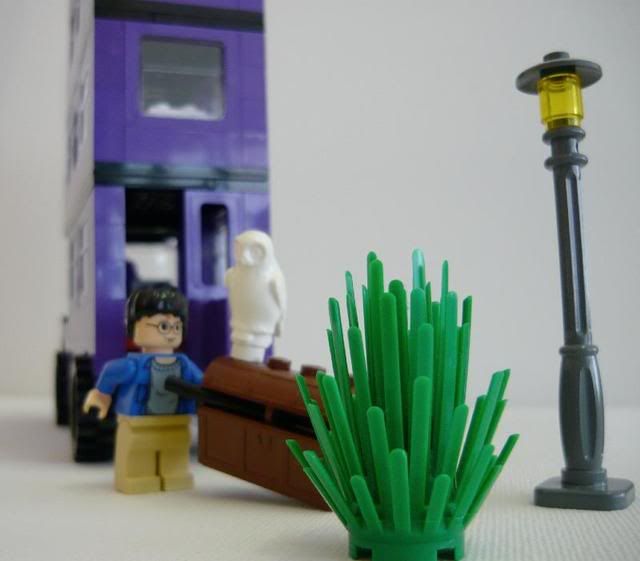 Sleep tight Harry, don't let your trunk bite!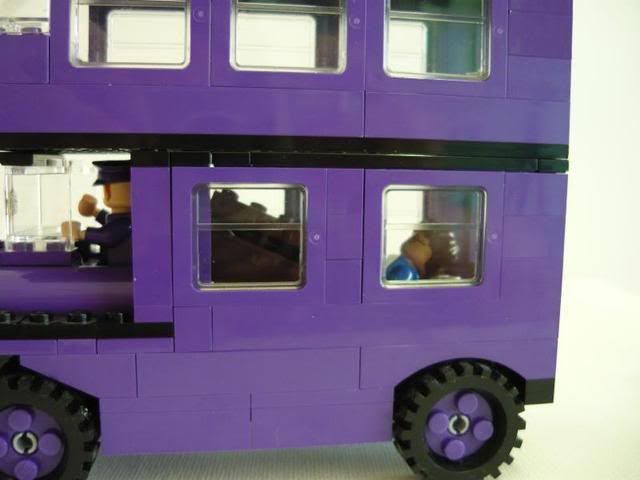 An Overall View:
The front view.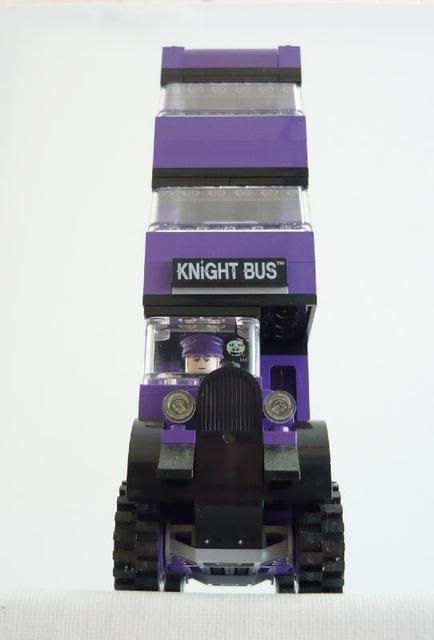 The back view.
The side view.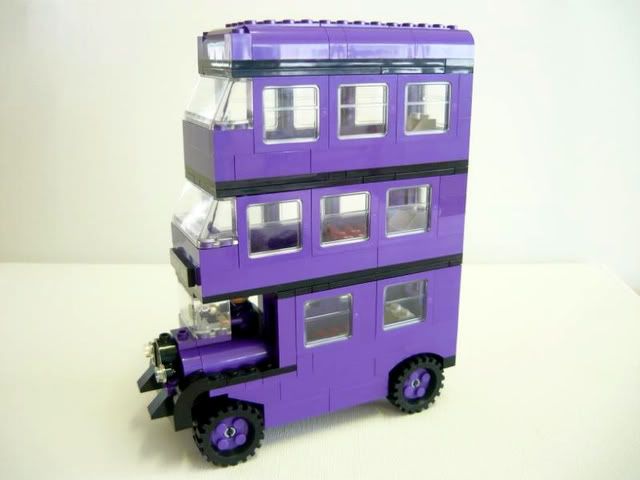 Pieces of Interest: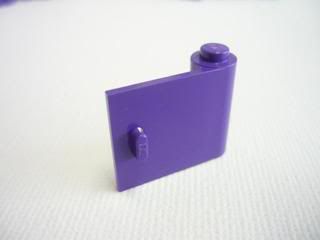 In this section I have included some close up shots of pieces I hadn't seen before, for example the classic swing car door (piece 3188), this is the only set where it is purple

, the comfy pillows are a great little piece to add to any MOC, I am especially glad that they are printed on. (No Dreaded Sticker Sheets for Harry)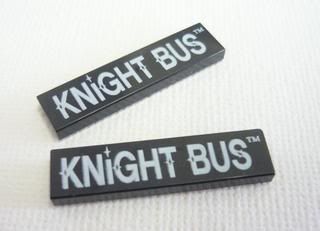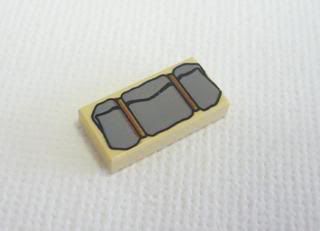 Also two (2) Knight Bus signs, the shrunken head on the windscreen and a roll from Harry's trunk! (all printed

)
The Minifigs:
Harry Potter in his casual 'I just ran away from home' clothes.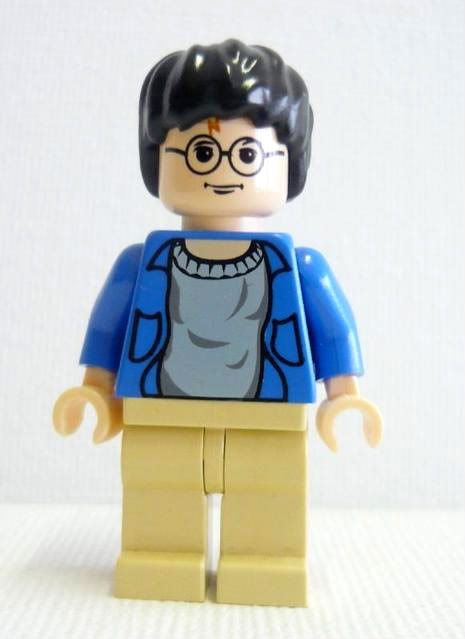 Stan Shunpike is his Knight Bus Conductor's uniform.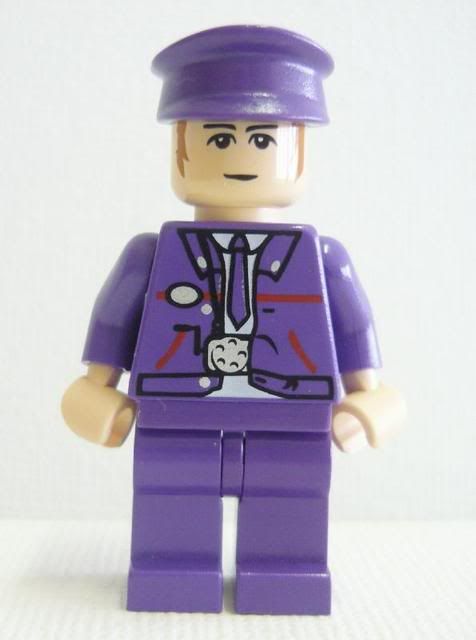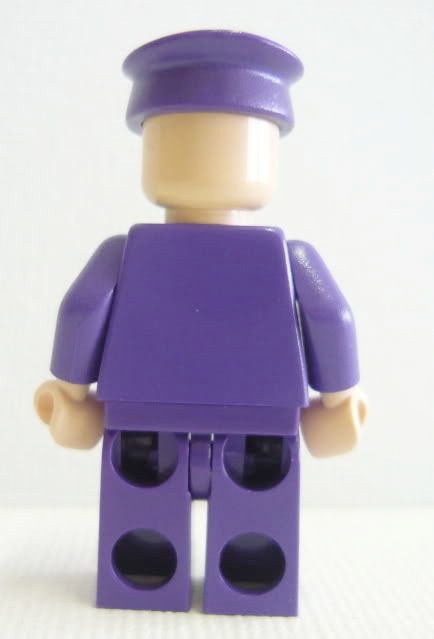 The Animals:
The Grin? What's the Grin?
Not the Grin you idiot! The GRIM!!!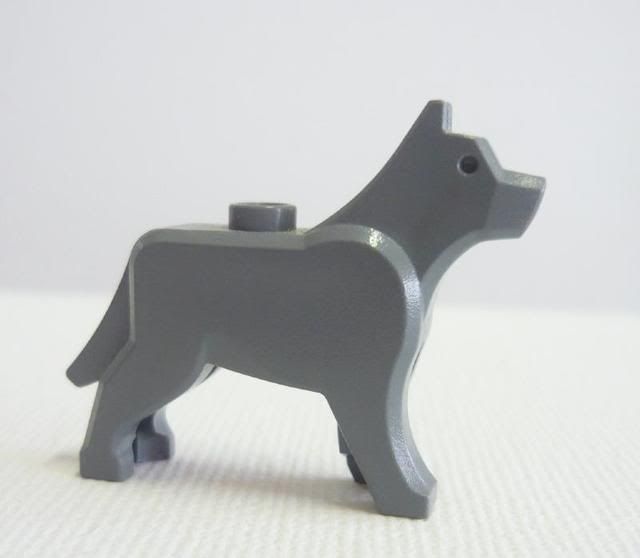 Hedwig! Harry's white owl.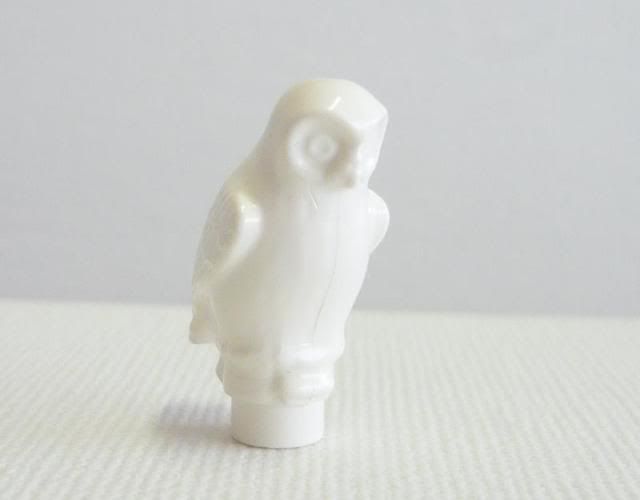 What should have been: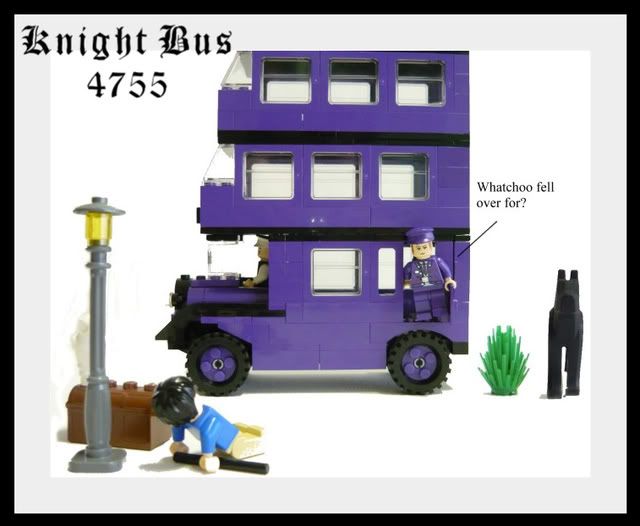 In this section I am showing the set as it should have been. Don't get me wrong I love this set (as you will see if you continue reading and get to the ratings) but, yes there is a BUT, I wasn't completely happy about a few little things. So, I have slightly modified the bus to make more like the movie as this is what TLG was basing it on also. I have added a driver (Ernie Prang) as Stan is the conductor, NOT the driver. I have also made the Grim a little more realistic. I think TLG copped out a bit here by using the ordinary grey police dog, instead of making it black and/or slightly larger. (Everyone would like a BIG black dog right?)
Ernie Prang, the REAL driver of the Knight Bus!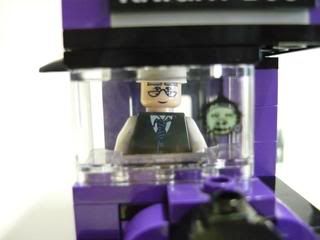 Stan Shunpike as Conductor not Driver, and a side exit for the bus!
Conclusion:
Minifigs:
8/10, Harry's casual clothes are nice, Stan's uniform is a nice match to the bus, the only problem is the obvious lack of Ernie.
Parts:
9/10, This set is unique with it's abundance of purple pieces. If you love purple then it is a must.
Design:
7/10, Unlike the movie, this set has a back (not side) door, and no stairs/ladder to the next levels. If this set was made a little bigger, it could have been more accurate. But for what it is, it looks very impressive and TALL
Build:
9/10, A fairly uncomplicated build with enough black set in between so you don't bored from all the purple.
Playability:
9/10, Anything with wheels automatically becomes easy to play with, this set is no exception. I love the way the beds glide up and down, and the sections come off for easy access to all levels.
Price:
Back in 2004 when this set came out the price was definitely reasonable, but with Harry Potter sets becoming more and more and more expensive, I am just glad I got it when I did. I'm not going to rate it out of 10 for price as it is not a fair assessment of the original intended price from TLG.
Overall:
8/10, This set, while not essential for everybody, it is essential for any Harry Potter fan. The massive purple bus is a great little set for playing with, using the pieces for MOC's (rare color) or just for display. You can zoom around and rescue Harry any time you wish!