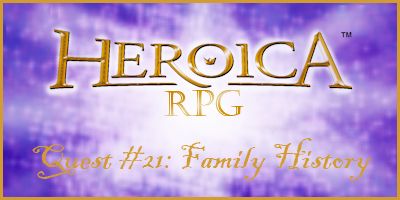 Five heroes were lead to the newly-bought residence of Ignatious and Octavian Ziegfried by the bookish Gilderoy. The chosen heroes were:
Nyx (Played by Pandora)
Level 15 Battle Mage
Power: 21
Health: 24/24
Ether: 20/20
Gold: 27
Inventory: Dawnstar II (WP: 9), Ruby (Fire), Amethyst (Darkness), Topaz (Lightning), Sapphire (Wind), Emerald (Wood), Sandman's Parasol, 2 Potions, Remedy, 4 Tonics, Holy Bomb, Bedroll, 4 Bones
Sarick Lanse (Played by Xarrzan) *Party Leader*
Level 7 Mage
Power: 13
Health: 11/11
Ether: 11/11
Gold: 35
Inventory: Dragon's Wrath (Staff WP: 6), Healing Staff (WP:5, healing effect), Opal Gem (Ice), Topaz Gem(Lightning) Potion, Tonic, Phoenix Essence
Nerwen Calmcacil (Played by Chromeknight)
Level 6 Cleric
Power: 12
Health: 13/13
Ether: 10/10
Gold: 25
Inventory: Peace(Hammer WP:6), Wooden Staff(WP:3), Bedroll, Shovel, Potion, 2x Tonic, Remedy, 2x Nostrum, Fire bomb, Elixir, Grand Tonic

Lord Lawrence Boomingham (Played by Zepher)
Level 15 1/2 Paladin
Power: 24
Health: 35/35
Ether: 16/16
Gold: 75
Inventory: King of the Desert (Longsword) (WP: 9, Fire Darkness), Frozen Saber (WP: 9, stunned effect, Light) Shaduex Shield (SP: 5), 3 Potions, 1 Grand Potion, Bedroll, 5 Bones, 2 Holy bombs, 2 Meads, 1 Nostrum, 1 Phoenix essence, Pick-axe, 1 Jo-no Tree seed
Amorith Marvelo (Played by legobodgers)
Level 12 Mage
Power: 19 (18+1)
Health: 16/16
Ether: 16/16
Gold: 204
Inventory: Dual staff (WP: 8) damages 2 enemies in one hit equipped, Fang Dagger (WP: 5), opal (ice), ruby (fire), garnet (earth), diamond (light), amethyst (darkness), 7 potions, 9 tonics, 3 remedies, Phoenix Essence, 1 elixir, 3 nostrums, 3 mead, holy bomb, ice bomb, smoke bomb, shovel, bedroll, 3 bones jo-no tree seed
The heroes arrived at the brothers' manor, and were led to a quite empty room with a bookshelf and a boat.
The heroes then turn to meet Ignatious and Octavian Ziegfried.
"You must be the heroes that we sent for," the man in blue began. "I'm Ignatious, and this is my brother, Octavian."
"H'lo."
The brothers then were quiet as they waited for the heroes to introduce themselves.
How will the heroes respond?