The one stop place for all your event info!
1/ Where, when, what:
Get ready for our next event, this time in the heart of the LEGO universe:
Billund, Denmark
.
The event is
Thursday 10th of May, Friday 11th of May and Saturday 12th of May
, so most of us will arrive on Wednesday late afternoon and go travel back on Sunday morning.
The program will be a mixture of visiting LEGOLAND, fun contests, visiting interesting places at Billund, presentation/discussion about Eurobricks and the online community (always on Friday evening) and much more. The full program will only be revealed in Billund, but those who have already been to our events know it'll be awesome.
2/ Accommodation
We stay in comfortable wooden chalets in a lovely camping near a lake at 5 min walk from LEGO. The
L5-chalets
all have living room/kitchen, a bathroom (shower/toilet), and 2 bed rooms (one with 2 box mattresses and one with a cot and one bunk bed (two beds over/under each other)), so 5 beds per chalet.
Prices:
Chalet (L5): 765 DKK/night (normal price is 850 DKK, Eurobricks gets 10% discount)

Camping card (one needed per chalet): 110 DKK

Breakfast: 70 DKK/day (optional, but I assume everyone will want breakfast)

Bed Linen/Towels: 65 DKK (optional, you can also bring this yourself)
I've added an example a bit later in this post so you'll see how to calculate your total cost for the stay.
Booking and payment:
To make this practical we'll do this in a decentralized way. Per chalet one person needs to be the 'chalet responsible'. This person will collect the money from the other people in the chalet and will be responsible for the reservation and payment of the chalet to the camping. Payment is to be done shortly after reservation (you pay directly to the camping, not to us!).
Each 'chalet responsible' should send an
e-mail to the Camping
containing: name, address, telephone number, how many persons there are in the chalet, the type of chalet (=L5-Chalet) and refer to "Eurobricks LEGO Event 2012" – then you get the discount of 10% on the price of the chalet. Also state the number of people in your chalet who want to hire bedlinen/towels and take breakfast. The camping will send back a confirmation of the reservation and a link for online payment.
Chalet responsible:
We'll work out who'll be the chalet responsibles in the sign-up thread. Please indicated in the sign-up thread if you'd be OK to be a chalet responsible or rather not. We prefer people who already came to past events to take the role of chalet responsible over people who we've never met before. Also in that thread you can work out with whom you'd like to share a chalet.
If you become chalet responsible you should get in touch with the other people in your chalet (by Personal Messenger) and give instructions on how they can send you the money. Once you have collected all the money you can make the reservation and payment to the camping. Ultimately it's up to you how you do this, as long as you agree with the people in your chalet.
To make life easy I've made an example email for booking a chalet. Find it below in this post.
Address and Contact:
Billund FDM Camping
Ellehammers Allé 2
DK-7190 Billund
Tel.: +45 75 33 15 21
Fax: +45 75 35 37 36
E-mail:
c-billund@fdm.dk
Website:
http://www.billundcamping.dk
3/ Sign-up for the event:
Go
here
to sign-up for the event.
4/ Some examples:
Example calculation of the total cost for your stay (assuming a full chalet):
I'll take myself as an example:
I'll stay the entire event, so 4 nights, in a chalet with 4 other people (so full chalet, 5 people in total), that makes (765 DKK x 4)/5 = 612 DKK. I'll also take breakfast each day, making the total 612 DKK + (70 x 4) = 900 DKK. Also I'll take the bedlinen and towels, so 900 DKK + 65 DKK = 965 DKK. Now I only need to pay my share of the camping card (one needed per chalet), so 965 DKK + (110 /5) = 987 DKK.
That makes my grand total 987 DKK, or after conversion (using
xe.com
) that makes roughly 133 EUR.
Pretty cheap considering all that's included

Example email for booking a chalet (only for 'chalet responsibles'):
To: c-billund@fdm.dk
Title: Eurobricks LEGO Event 2012
Dear,
I'd like to book a L5-chalet for the Eurobricks LEGO event 2012. We will arrive late afternoon Wednesday 9th of May and leave on the morning of Sunday 13th of May, so 4 nights in total. There will be a total of 5 persons in the chalet. All 5 of us take breakfast while bedlinen/towels are needed for 3 persons only. We'll pay everything in advance, so please send me the total bill (including chalet, breakfast, bedlinen/towels and one camping card).
My contact info:
Joe Smith
Forestlane 210, 3020 UK
Mobile: +49-45.66.44
Best Regards,
Joe
Here are a few pictures to give you an impression of the place where we'll stay: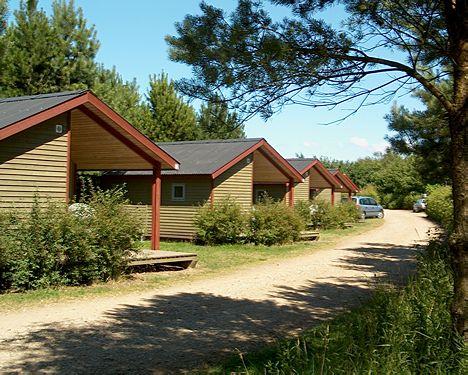 More pictures are here.