The fourth night had supernatural occurences and potions galore. Several residents of the school were no longer what they used to be...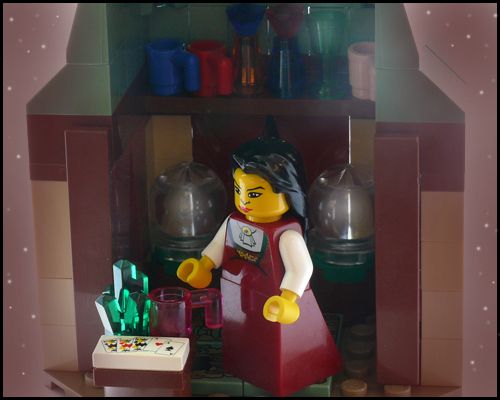 The teacher of Divination, Tea Ching, had once again locked herself into the Divination Tower, desperately trying to find out more about the situation at hand. Her prophetic talents had failed her only once in her life, but the guilt and regret of that one time weighed heavily on her shoulders. Her thoughts took her back to China, where she had lived as a famous seer. But knowledge is power, and too much knowledge of events to come can change the course of history forever. Now she wanted nothing more to use her powers to make up for her past failure.
In the split second it took her to realize that a Death's Hallowed had infiltrated her classroom and cast the killing curse Avada Kedavra on her, Tea Ching could think of nothing else but remorse that she would die without making amends of her mistake.
So strong was her feeling of regret and guilt, that her spirit couldn't cross over to the other side.

The Death's Hallowed watched in fury as the ghost of the diviner materialized above the corpse. "Why can't people just die properly?! We need the souls!"

The ghost of Tea Ching was so confused about seeing her body lying lifeless on the ground that she didn't think of looking who her killer was before the figure dashed away.
That night the moon shone full in the eerie sky. The Aurors reported of sighting a werewolf creeping in the upper corridors, but it evaded their spells. It didn't seem to have harmed anybody, though.
The Dementor returned, as well, but everybody were wise enough to stay clear of it.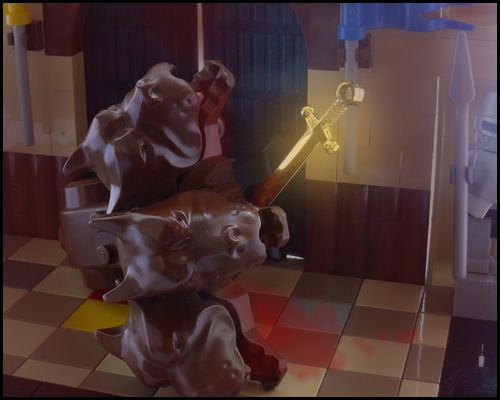 However, the night saw the end of Cuddles the Cerberus, as its body was found from the entrance hall with a gleaming sword stuck in its chest. The poor caretaker had been its first and only victim.
The librarian Stephanie Kingston had been revealed to be a squib immune to magic last night, but this night it turned out she wasn't immune to other ways of killing, like poison for example. Madam Kingston was found lying half-dead from the floor of the library, and she was taken to the hospital wing post-haste.
In the morning, Headmistress McGonagall recounted these events to everybody. Madam Kingston had been able to get up to hear this with the help of a wheelchair, but her poisoning was severe, and Nurse Hearth confirmed that unless she was cured soon, the librarian would eventually perish.

The headmistress had the sword that had been used to kill Cuddles with her, and she announced that this was the same sword Angela Weasley had possessed, and that it indeed was the legendary Sword of Gryffindor, given to Angela and then to another person by the headmistress herself.

"With Brandon Townsend dead, I do not believe there will be any more monsters invading Hogwarts. Thus I will reclaim this sword and return it to its rightful place in my office", the headmistress said.
Then Auror Potter spoke.

"We interrogated Miss Grandstaff thoroughly, and it became evident that like Mr. Townsend, she too was

Impartial

to these affairs. Miss Grandstaff has been suffering from a mental condition called the bipolar disorder for quite some time, hence she has had terrible mood-swings and personality changes that made her go to the extremes, like torturing people. She has now been transported to St. Mungo's to get proper treatment."

"As for you, Professor Ching", Potter continued, "it is obvious that you were attacked by the Death's Hallowed last night, and that your good will alone keeps you still here with us. It is thereby clear that you were an

innocent

person when you lived. I hope you still linger with us to help us out, but I'm afraid we cannot let you vote during the days, because spirits are known to be fickle when it comes to the matters of the living. Anyway, I hope it is obvious to everybody present that ghosts cannot be killed or sentenced to prison."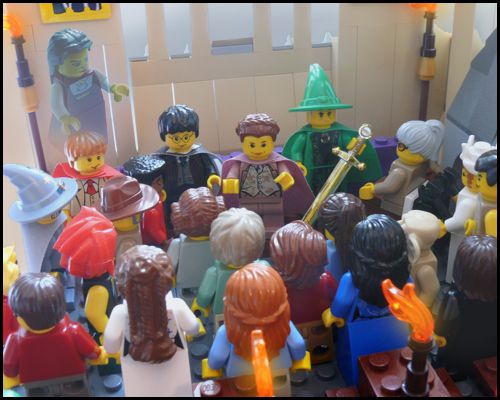 Finally, Minister Granger-Weasley addressed the crowd.

"It looks like you made a good choice in convicting Miss Grandstaff yesterday. Let us hope you can make as good a choice today as well. However, I wish you all keep in mind my theory that these events might be related to the late Dark Wizard Grindelwald. Professor Ching's recount that her killer spoke of 'needing souls' makes me fearful that there is necromancy at work here in Hogwarts. But have faith, people, I beg of you. Trust in goodness, and it shall prevail. Please."

The residents of Hogwarts started going through the recent events together.
Rules:
1. There are two opposing sides in this game, the Death's Hallowed and the Innocent. The Death's Hallowed win when they outnumber the others. The Innocent win when they've vanquished all of the Death's Hallowed.
2. Each day, the players will vote out one amongst them with a majority decision. To vote or to draw back your vote, you must use the following sentence in your post: vote: character/player or unvote: character/player. If you want to change your vote, you must first unvote before the second vote is calculated.
3. During days, there is a 24 hour period before anyone can vote. Once the majority decision is reached, you cannot unvote the player in question anymore.
4. Every player will get a short list of items, spells and skills at their disposal. These can be used only at nights.
5. Each night, the players can use one of their items, spells, OR skills by sending the host a PM about it. Some items and skills have an automatic effect, which will be handled by the host. Items can be handed over to another player, but that will cost the giver the night's action.
6. To give someone else your item, send the host a PM stating the item you wish to give, the name of the player you wish to give it to, and whether you want to remain anonymous or not. Items cannot be exchanged without the host acting as an intermediary.
7. The night abilities have a pre-specified order of effect. If you don't send your night ability by the time limit I've given each day, you will miss your chance to use it.
8. The Day-topics are meant for active players only, so do not post in them if you are already out of the game. The Discussion-topic is open to everybody.
9. Do not edit your posts, because it is considered unfair to other players.
10. Do not directly quote anything I've sent to you via PM. Use your own words, please.
11. All out-of-character discussion must be kept in the Discussion-topic. Likewise, all talk about game tactics and roles must be kept in the Day-topics and PMs.
12. Since this game deviates quite a lot from other Mafia-games, please ask any questions or doubts you might have directly from me, and you will be answered.
Players:
Hogwarts Faculty:

Brigelda Hearth
, nurse (
WhiteFang
)
Crudo Alakhazam
, teacher of Charms (
Big Cam
)

Eloquence Malleus
, teacher of Transfigurations (
Shadows
)

Jingle
the House-elf (
Dragonator
)

Neville Longbottom
, teacher of Herbology and Head of Gryffindor House (
professor flitwick
)

Rhubarb Uxley
, teacher of Care of Magical Creatures and Head of Hufflepuff House (
Escape the Fate
)

Sicilia Bathory
, teacher of Potions and Head of Ravenclaw House (
Eskallon
)

Stephanie Kingston
, librarian (
Zepher
)
Hogwarts Students:

Desiree Jackson
, Gryffindor (
badboytje88
)

Harriet Pewter
, Slytherin (
YG-49
)
Jolie Jadis
, Slytherin (
Lord Arjay
)

Loki Malfoy
, Slytherin (
ILikePi
)

Prion
the Centaur, Hufflepuff (
Forresto
)

Rocky Broomwell
, Gryffindor (
sok117
)

Sheila Bones
, Ravenclaw (
Matn
)
Todd "Bulltoad" Bulstrode
, Slytherin (
Roncanator
)
Valerie MacArthur
, Ravenclaw (
Inconspicuous
)

Xander Lovegood
, Gryffindor (
CallMePie
)
Others:

Dementor #2

Tea Ching
, teacher of Divination and a ghost (
iamded
)
The Deceased & The Confined:

Brandon Townsend
, Hufflepuff (
Oky Wan Kenobi
) -
Impartial
(killed on Night One)

Oraman Furbad
, caretaker (
JimButcher
) -
Innocent
(slain by a monster on Night One)

Angela Weasley
, Gryffindor (
Burman
) -
Innocent
(voted out on Day Two)

Francis Rowan
, Ravenclaw (
ADHO15
) -
Innocent
(killed on Night Two)

Nene Grandstaff
, Hufflepuff (
Millacol88
) -
Impartial
(voted out on Day Four)

Tea Ching
, teacher of Divination (
iamded
) -
Innocent
(killed on Night Four, now a ghost)
There are 18 players left in the game, so it will require 10 votes to convict someone. Voting starts 24 hours from now.