Hey guys, second review, so go easy on me. Firstly, thanks to everyone who clicked my teaser picture I linked in the thread yesterday, I got a huge amount of traffic, I'm very grateful! Secondly, I'm so sorry about the camera, I usually use a Nikon but I broke the lens, oops, so I'm using my phone camera, and some of the pictures are a tad blury. *is sorry*.
Set name:
Quidditch Match
Pieces
: 153
Price:
£19:97 from Tesco Direct. It's now out of stock! It cost £5 to deliver, but hey ho.
Theme:
Harry Potter (Hell yeah!)
Set number:
4737
Release date:
1st October (officially)
Brickset link
:
http://www.brickset....ail/?Set=4737-1
Okay, let's take a look at what we have got here!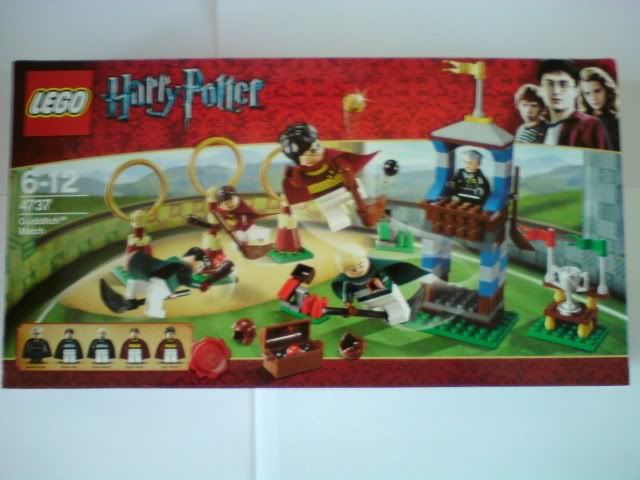 Front of the box is pretty lush. Very nice artwork, it does the job well.
The back of the box shows off the set a lot better. Just lovely!
And the side shows off the minifigs. These are ALL fantastic.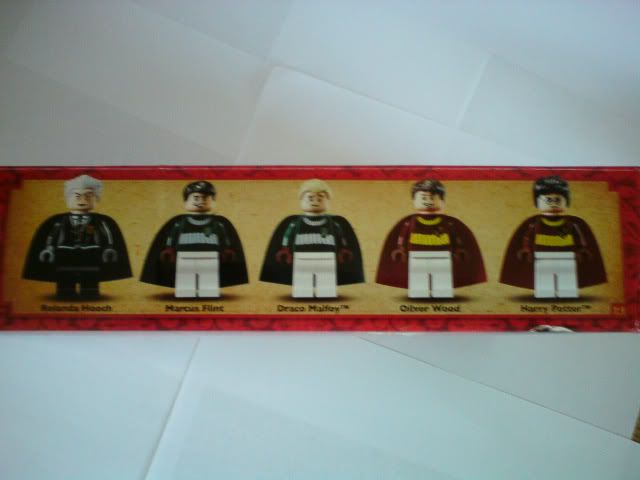 Time to get cracking. Whats in the box!?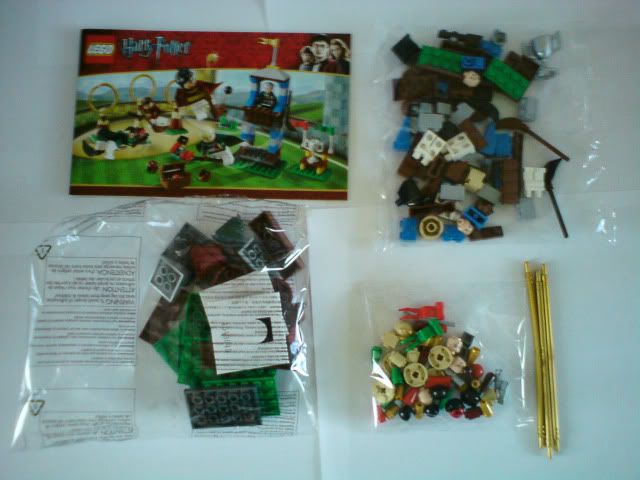 The answer is 3 bags, instruction booklet and 3 pieces to form the hoops, as we will get to later. These sets don't come with a mini poster like the classic sets did, a shame, but not really a surprise.
Above is a random page from the instruction booklet. You can see the trio faded into the background which is pretty cool. The rest of the design is pretty boring. The booklet also includes a advert for the Hogwarts Game. It's all plug plug plug.
Here be your pieces, unsorted in all there goodness.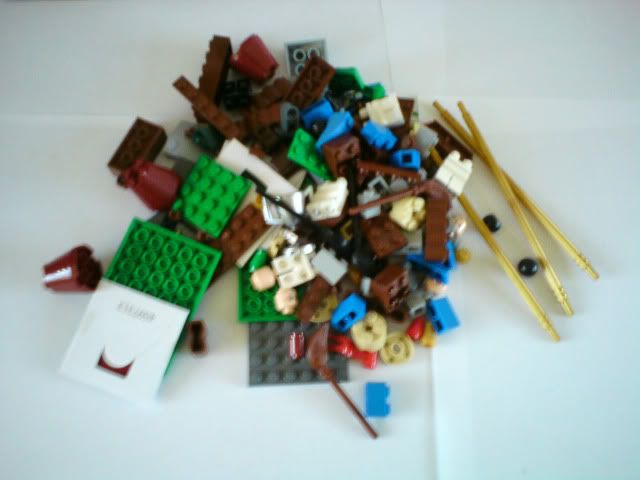 And here they are somewhat sorted. I only really sort of pieces for huge sets, I just piled them into colours, as you can see below. The capes come in the tiny boxes and they were all in mint condition. I only wish they would stay that way!
These are my favourite pieces of the set. I love the helmets, and the beaters bats, but I also love the huge cup! What a great piece.
Time to have a look at the figures themselves. Below are the 4 Quidditch players, I'm not sure why I didn't include Hooch in that photo, my bad...
Lets have a closer look, shall we?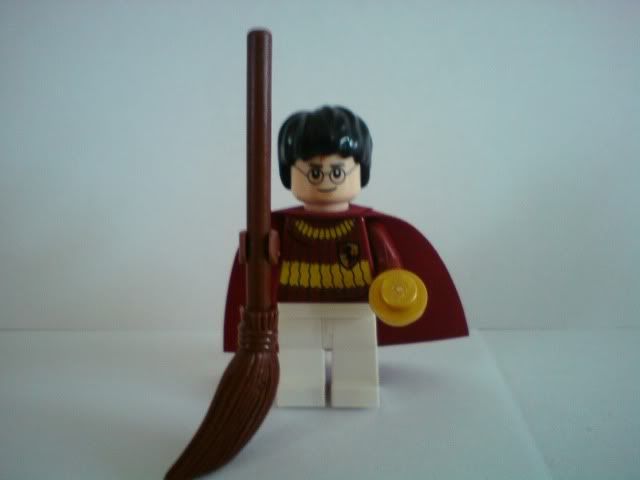 Harry and his new double sided head. So much love for the new Harry figure. The face is babyish, but it works for this set.
The two figures above are Oliver Wood and Marcus Flint. It's amazing that TLC are giving us these two figures, back in 2002 we only got Harry and Draco. Improvements, indeed. The weird thing is, both these figures have beaters bats, which confuses me as neither are beaters. Oh well, life goes on. Also, neither figure have switchable heads, I don't really see this as a problem though.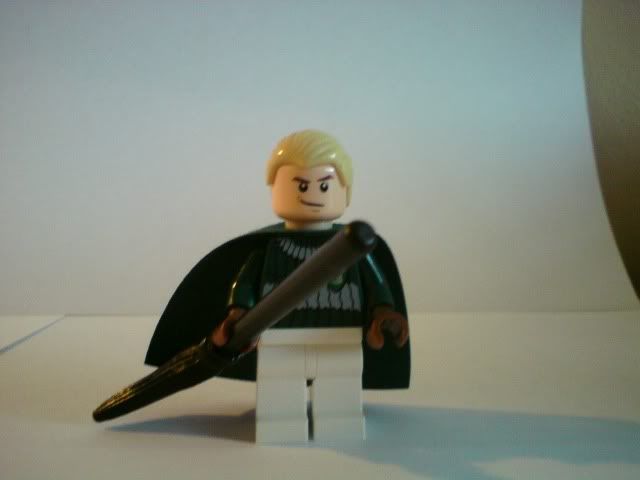 My favourite new figure is Draco Malfoy. His hairpiece is perfect for the first two movies and his face is super smug. The best part is his switchable head which shows him looking rather worried. Twitchy little ferret, aren't you Malfoy? As Mrs Granger would say.
The final figure is Madam Hooch, who is a pretty cool figure. Her new hairpiece is just swell, it really gives off the windswept look, which I've been told I can't pull off... And we get another switchable head! TLC are all about switchable heads these days! i'm so down with that.
Time for the build now. It's a pretty simple one.
A random stage is shown above. And the finished tower is below.
The tower is the main bit of this set, it has a place for Hooch to 'chill' as the cool kids say these days, and that's show below.
The next part is the Quidditch Cup stand, very simple, very effective. You get some nice flags as well. YAY FLAGS.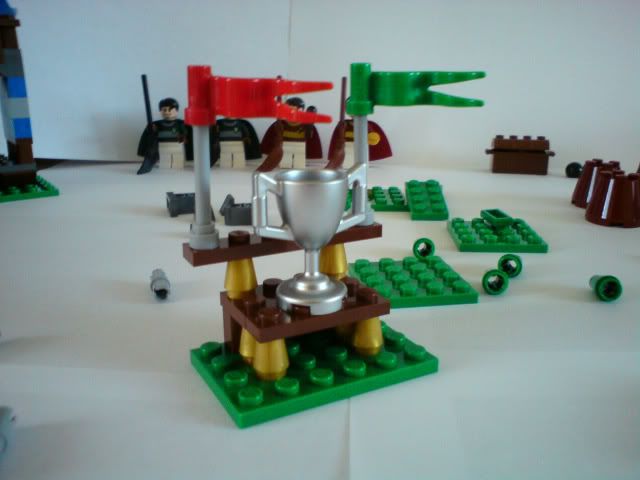 The next bit is making the hoops. Now, way back in 2002 we got pre-made hoop pieces, I don't know how to put it. Now, you get 3 of these pieces, show below. You also get to see two of my fingers. The pieces are all bendy as well, as you can see...
These 3 pieces make up the rings, and I'm going to be honest and say they don't look as good as the 2002 hoops. They just look a bit odd... You can see the 3 hoops below. Glory.
The last part are the mini-caterpults. They are pretty cool, and add playability to the set. Want to see a poorly filmed video showing them off? Off course not. Check it out below. As you can see, I have a bit of trouble, but it's all good fun.
And as they say in showbiz, that's a wrap! Below is your finished set. Dunt it lack greeet?
Here is a picture of it in it's new home at my house!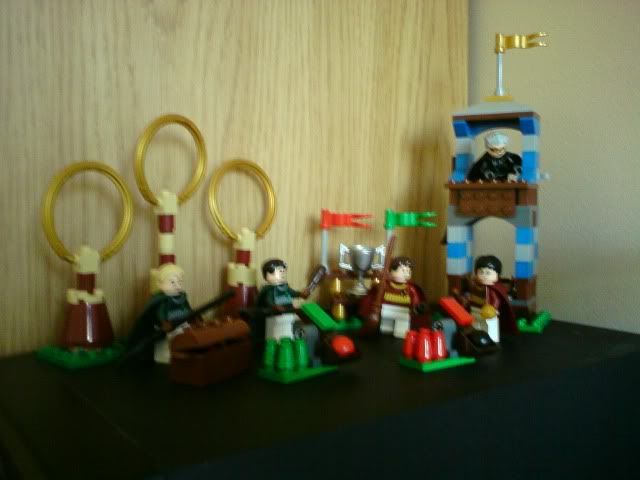 These are your left over pieces. Nothing of great interest, unless you have a thing for dark grey cheese pieces.
Let's do the ratings, shall we?
Parts: 7/10
- You get 150 odd parts, but most of them are really basic. You get some nice colours and the rare pieces are great.
Figures: 10/10
- Holy Quaffles, these figures are FANTASTIC. The level of detail is amazing, it really shows how much TLC has improved. Also, adding figures like Wood and Flint are great, and very welcome additions.
Design: 7/10
- It's simple, but it does the job. The main tower looks better then the older version, but I'm not down with the hoops.
Price: 8/10
- It's a tad bit more than the original, but who cares? 2 more figures and the extra added details make this a sweet deal.
Playability: 9/10
- I'd give this a 9, because the new catapults give you something to do. You can also hold the figures in your hand and making SWISSSHH-ing nosies as you fly them around your room. Or that's what the 12 year old Chris would of done, anyway.
Overall, 8/10. This is a great set. I didn't really care for this at first, but don't miss out on it, it looks lovely.
For more exclusive pictures, check this out!
I hope you liked my review!
Edited by SuperChris, 03 September 2010 - 08:52 AM.