On the border of the Mystic Isles, the surf beats against the magical island spring. Some say it is the fountain of youth, others swear tis where the Sirens call. But if they were there on this day, it might have been called 'Pegasus Springs'. It stands as the farthest island within the borders of the Mystic Isles. And it is from this place that Siercon, atop his Pegasus, takes the final leap before soaring for the mainland to join the Dragons Flight.
Name: Siercon and Coral
Rank: Keeper of Mystic Isles
Age: Unknown
Weapon of Choice: Siercon: Black Short Sword; Coral: Turquoise Katana
History:
Siercon and Coral have lived on the Mystic Isles for as long as anyone has heard their name. As a territory shrouded deep in the country of Avalonia, little is known about them or the Mystic Isles. It is said that they are Faerie lovers, or mages who found each other after a long journey through other worlds. Now they wander the Mystic Isles together, nurturing all kinds of living magic and mythical beasts. Artorious was one of the few that often stepped upon the mystic shores before establishing the Avalonian order. Still, Siercon and Coral are rarely seen. They often use messengers and it is rare that one can take a look beyond the misty vale. Their loyalties and magic have been found to be dependable, though their presence sporadic. They are the Elvish Faerie rulers that one never counts in time for the battle, but will often brighten the sky in their late arrival.
And now they ride to join a select group of Avalonian Warriors known as the Dragon Flight, providing mystic compliments of magic to the battle ready leaders. This was a time of reuniting with old friends, and possibly a great war. In these troubled times with the Drow, Siercon and Coral ride under the flag of Avalonia. However with some strong ties among the Drow, it is not with bloodlust but with forbearance that they may have to tend to their fallen elvish brethren.
As per request... Here is a close up shot of the back :)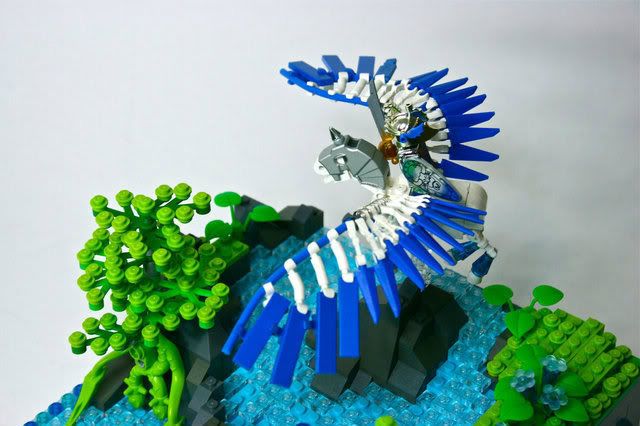 Edited by Siercon and Coral, 04 June 2012 - 12:19 AM.